Living Environment ◎ Tama Plaza Azamino, a place for everyone
Plaza comes from the Spanish word for a public square. If you look back, ever since the ancient Greeks public squares have been central to people, and they continue to be loved today. 
As the name shows, Tama Plaza Azamino District stands in an exclusive residential area complete with educational and medical institutes as well as gourmet eateries. In recent years it's been the talk of the town; a place that has everything. And thanks to that, they're so popular they top in the rankings for best places to live every time.
Today I introduce to you Comfort Tama Plaza, located 8 minutes' walk from Azamino Station and 10 minutes' walk from Tama Plaza Station. On the way from Azamino up the small hill that faces the sharehouse are many stylish cafes and shops all lined up. Just looking at them is enough to put one in a good mood.
This large sharehouse with room for 140 people is complete with special facilities like a theater, study room, and studio. The open counters are attached to a large kitchen and dining room for people to gather around at any time, marking this spot too as a "public square" community. As it's possible there will also be residents who come from overseas, at times this could also be where lots of English can be heard in the sharehouse.
A small neighborhood sharehouse in Tara Plaza Azamino District that's like a public square. Now let's answer the questions you must have!
「Comfort Tama Plaza」House Details Page
 
 

Surrounded by a green and peaceful neighborhood, it's living environment is ◎ The Ideal Space

On the way to the sharehouse, the area is so peaceful and spacious that you might notice yourself going into deep thought on so many things. One reason why it's so calming here could be because of all the greenery there is. In the evenings you can relish your time, and you may cross paths with someone walking their pet every now and then too.

There is a large shoe storage cupboard to the right of the entrance. You can even store those knee-high boots in here with ease.

Feel liberated with the open kitchen, dining, and living rooms.

The kitchen, dining room, and living rooms are a straight line from one another and you can look out at your surroundings wherever you may be, whatever you may be doing. You can watch TV at the same time as you're making dinner so you'll soon find yourself gathering here.

This area is a part of the lounge. You could easily use the space to finish off some work or some other kind of activity.

One standout feature of the kitchen is its colorful design, and there is even enough space to hold a cooking workshop or something along those lines in here.

A studio has been set up next to the lounge and can be used for pretty much any purpose, like yoga or even dance.

 Mirrors line one wall. You'll be sure to get active and put a stop to a sedentary lifestyle in here.

If you don't have a computer of your own but want to look something up, be reassured that you can do so here.

This is the washbasin before the shower. The lights encircling the mirror are a great help when putting makeup on.
 
 
 
 

140 rooms, 140 people. No two rooms are alike and each space is brimming with individuality.

Perhaps it's a little troublesome to design all 140 rooms individually. However, at Comfort Tama Plaza the rooms are many but by no means mass-produced. They're carefully designed to create a private space for each resident. Every room is furnished with a refrigerator, desk, closet, and futon.

Room 321 is slightly on the larger side compared with the other rooms and can be rented by 2 people.

There are even enough chairs for 3 people. With the large closet there shouldn't be any problem for those with a lot of luggage.
Oak House, who manage this sharehouse, have many sharehouses to date--in fact, they have the greatest in Japan of perhaps 130 buildings. When I went to see Comfort Tama Plaza, I couldn't believe that so many places like this one could have been made where all 140 rooms have a separate design.
On my visit, there were always people in the living room and dining room that I talked about earlier, talking about what they just bought or what they're doing now or telling jokes. I saw conversations bloom all over the place. Everyone is great friends with one another and I had the impression that inside the house floated a cheery, gentle atmosphere all over.
You can watch movies, exercise, and study. You can do most things in the house but take a step outside and there stand open-air cafes and famous gourmet eateries. If you go out to experience a change of pace with food or shopping then it makes life in the sharehouse all the more exciting and enjoyable!
It takes about 20 minutes to Shibuya but that doesn't mean it's far removed from the city. Azamino Tama Plaza District is nearby, more peaceful than the city itself, and has many fun places comparable to the city. Why not consider spending your days in this sought-after place?
/Author: Kitano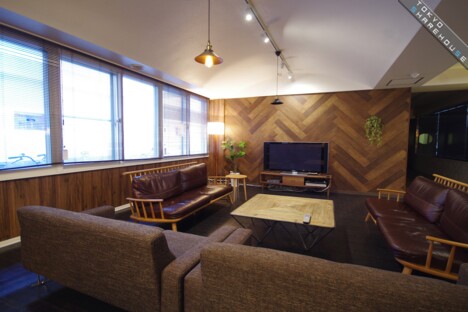 House Detail
Social residence Plaza
Area
women only bath and Laundry rooms also available.
Rent
¥63,000 ~ ¥120,000
Access

Station on the Tokyu den-EN-Toshi line Station on the Tokyu den-EN-Toshi line Station on the Tokyu den-EN-Toshi line

Station on the Tokyu den-EN-Toshi line Station on the Tokyu den-EN-Toshi line Station on the Tokyu den-EN-Toshi line

Condition
Male, Female