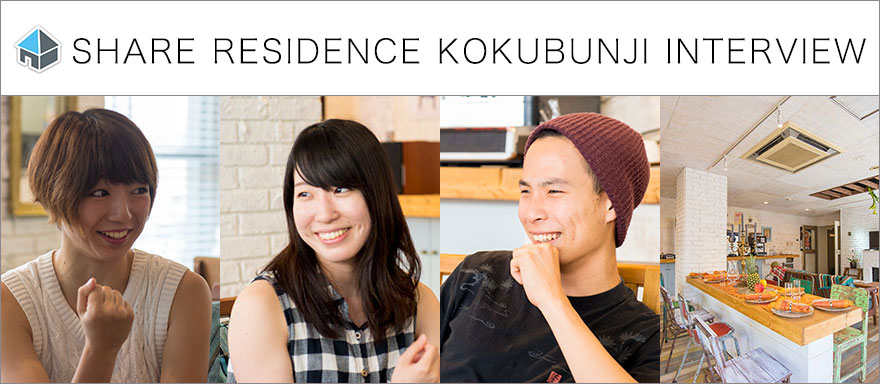 Lives interwoven
We live in an age where it's easy to travel anywhere. I believe that this is because we do not have to jump over the same hurdles to get to other places in the world as we once did. People are now on the move. Living in a sharehouse, it's possible to meet and encounter people regardless of district, region or country.
Many people have only had interaction with a restricted number of people in their hometown. Living in a sharehouse gives these people an opportunity to mingle with a variety of people from vastly different backgrounds and broadens one's views of the world. However, although there are certainly people who understand the value of meeting different people, there are also those who are reluctant to live with people they don't know.
The focus of this interview is on community within sharehouses. We will touch on concerns such as what kind of people are living in sharehouses, and what kind of communication takes place between housemates. We will visit Share Residence Kokubunji, a large-scale, 58-room sharehouse in the west of Tokyo.
At first glance the exterior leads us to believe it's a regular apartment building, however inside is an extravagant sharehouse with a Scandinavian-influenced interior, complete with espresso machine and even an ice cream maker.
What kind of people live here, and what kind of lives are they living? Let's find out!
「Share Residence Kokubunji」House detail page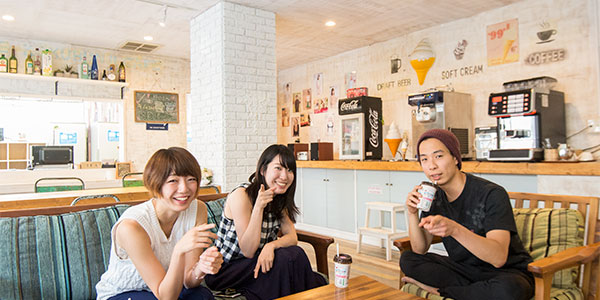 PROFILE(L-R)
・Eri :Housemate for 1 year   ○Occupation / Dancer       ○Special talent / Dancing
・Kunihiro:○Housemate for 1 year   ○Occupation / University student        ○Special talent / English
・Taka  :○Housemate for 5 months  ○Occupation /Working holiday ○Special talent / Painting
---Is this your first time living in a sharehouse?
Eri ・Kunihiro ・Taka
Yes!
---Why did you choose to live in a sharehouse?
Eri
I came to Tokyo as a dancer, and thought that living in a sharehouse sounded fun after reading an interview quite like this one on a sharehouse portal site. Also the cheap rent had me sold. When I came to check the place out I found everyone cooking together in the kitchen and having a good time, and that appealed to me.
Kunihiro
I did study overseas for a year, but I always lived alone. When I came back I had no money and I was worrying about what to do, so I decided on a sharehouse because the furniture is supplied and the rent is cheap.
Taka
Before moving in here I was traveling around Japan, the Philippines and Taiwan so when I first came to Japan on a working holiday visa I didn't have any friends at first and was quite lonely. I thought that a sharehouse would be a great place to make friends, and started looking at sharehouse portal sites, too.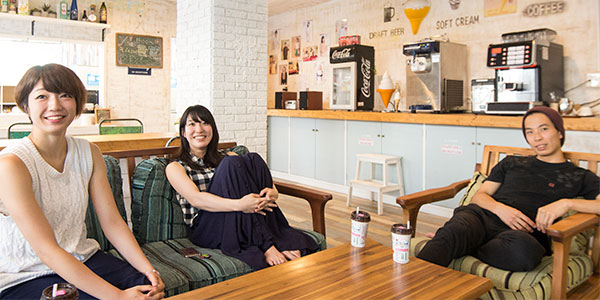 ○These three are all first-time sharehouse sharemates!
--Did you have any worries or concerns moving into a sharehouse for the first time?
Eri
None at all (laughs) Although I do remember thinking that it'd be scary if there were cliques inside the house.
Kunihiro
Actually I didn't want to live in a sharehouse at first (laughs) I had always wanted to live by myself for the longest time… but I didn't have that kind of money and ended up moving in here. I know it's a sharehouse, but before moving in I kind of hoped that the relationship between sharemates would be more like the kind of relationship between residents of an apartment building.
Taka
I just thought the whole idea sounded fun.
Eri ・Kunihiro ・Taka
(laughter)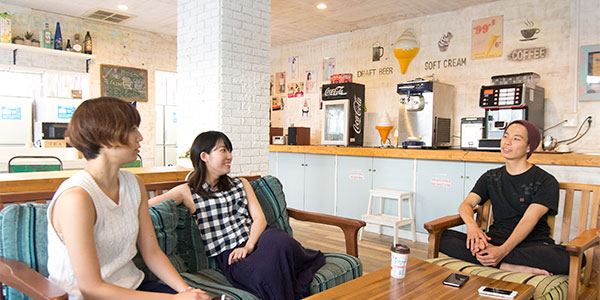 ○Social interaction in the house is a main worry for new housemates
---How did you get to know the other housemates?
Kunihiro
Umm, I was just doing my own thing in the living room and it all happened quite naturally, I guess. If you're in the living room someone will always come in and introduce themselves.
Eri
It's kind of like school. You talk to the people you talk to, and maybe just exchange pleasantries with the people you don't really talk to. Things go smoothly without having to worry about it too much.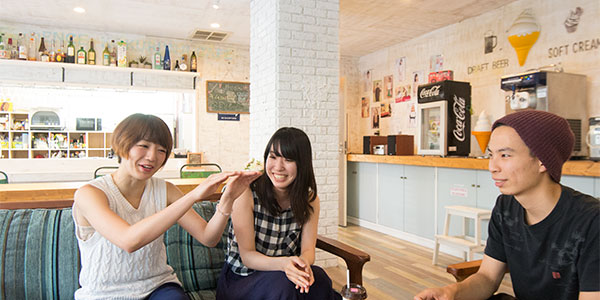 ○Everyone seems to be at ease with each other.
---What kind of expectations did you have at first? Is what you see on TV a big influence on your expectations?
Eri
I did go in thinking that it would be like on TV, but it's actually quite different (laughs) I did think It'd be nice if there were more hot guys around!。
○More hot guys...
So live people
---Why did you all come to Tokyo?
Eri
After finishing dance school I worked in Nagasaki at Huis Ten Bosch before returning to Osaka. Dance work in Osaka is very limited, however, and upon hearing that Tokyo is the place to be for dancers seeking work I came to Tokyo to increase my personal connections to get work.
Kunihiro
I'm from Kagoshima, and came to Tokyo to attend university.
Taka
I've come from Australia on a working holiday.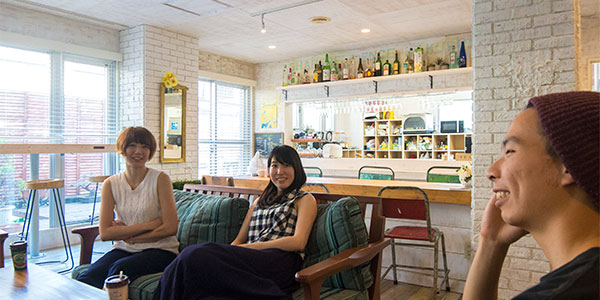 ○Everyone has their own reasons for coming to Tokyo
---How much does it cost to live in a sharehouse?
Kunihiro
When I was living alone I was spending 80,000 yen a month on rent, but here it's only around 50,000. Although since living here my food expenses have increased because I want to cook all the time!
Eri
Yeah, I make takoyaki by myself, too. Kind of like if I start making it, someone will come to share! (laughs)
Kunihiro
Wow, all by yourself!? People who cook will cook, and people who don't cook won't at all.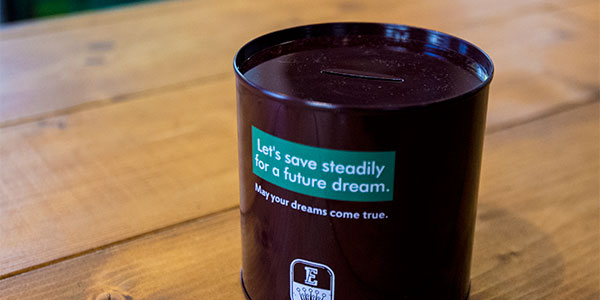 ○Rent may be cheap but food expenses can be unexpectedly high. On the contrary you could get someone to share with you every now and again.
---So everyone does their own thing outside the house, but do you ever show off any skills and talents to everyone in the house?
Kunihiro
Oh, Eri! You did that thing! The running man!
Eri
Hey now, that wasn't like a performance or anything! People were doing it on TV and everyone was telling me to do it, so I did, that's all/
Eri
Oh, but you are always speaking perfect English!
Kunihiro
No way, no I'm not!
Taka
I drew a picture for Keiko, one of the housemates. Wanna see it?
Eri
Wow, you're so talented...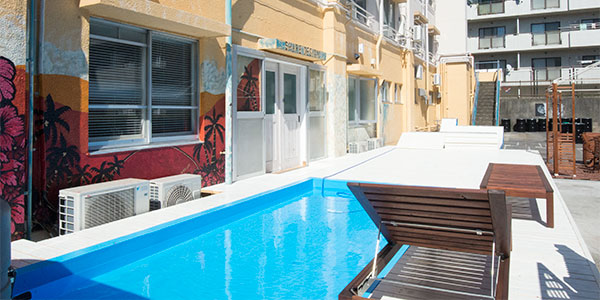 ○The mural on the wall beside the pool is Taka's creation. He was asked to paint something on the wall of another sharehouse.
---Are there ever any romantic encounters in the house?
Kunihiro
None at all, I don't think?
Taka
None at the moment, at least.
Kunihiro
Yeah, but maybe someone might get together between summer and winter!
Eri
Ah, yes, the lonely season! But I don't think it's a good idea to get involved with anyone in the house! (laughs)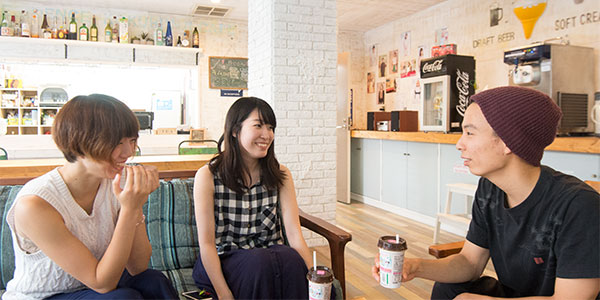 ○This was the most exciting question of the interview
Friends are waiting to be made
---Any last words for our readers?
Kunihiro
I didn't want to live in a sharehouse at first, but it's so much fun now that I'm here!
Eri
Let's make memories together!
Taka
Be friends !
All
That's so like you!
○Living in a sharehouse in a few words↑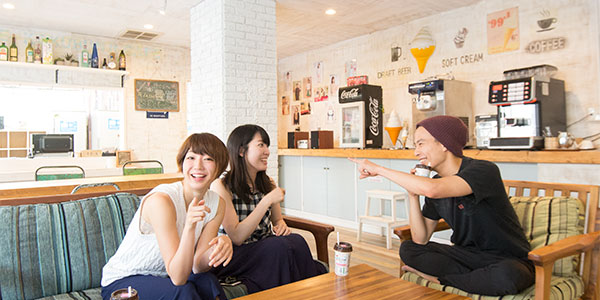 ○The housemates have built an equal relationship despite being of different age and coming from different areas.
---During the interview these three were full of anecdotes and spoke so excitedly about their time in the house. Thank you!
This interview was made possible by the cooperation of housemates from Share Design's Share Residence Kokubunji. By speaking with these housemates we have understood that living in a sharehouse isn't exactly like how it is portrayed in the media.
However, more than anything else it's plain to see that the relationship between sharemates here goes above any beyond that of being simple neighbors in an apartment.The sharemates here trust each other and have created bonds which can be seen through the comfortable, casual way they interact with each other in conversation.
Surely these housemates are laughing and having fun on a daily basis, making memories they can look back on fondly in the future.
Living in a sharehouse means that you will meet a variety of people of different ages and backgrounds who hold different beliefs, and by coming into contact with values that differ from your own you will no doubt enrich your own life.
Choosing to live in a sharehouse is a great deal when you consider the low costs, the opportunity to make friends, and also the chance to discover a whole new world in Tokyo.
Have your tale interwoven into the lives of others. Live in a sharehouse.
                                                        Author/Inamine