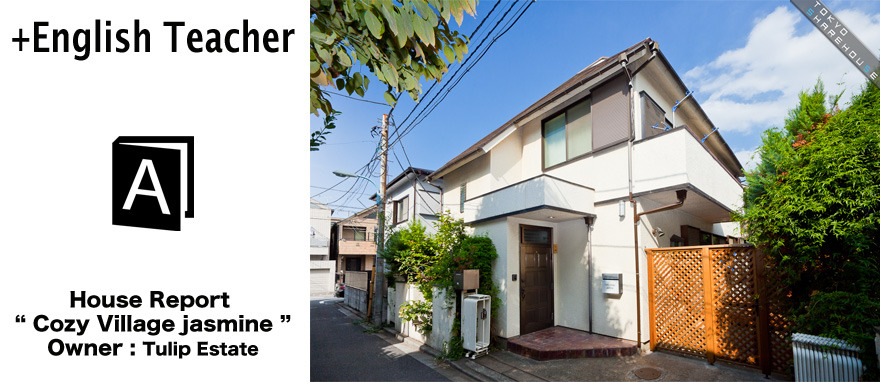 Cozy Village Jasmine: Teaching English through day-to-day living.  Much more natural and simpler than working for a school.
I once wondered to myself if there was any place that offers a system with value in addition to the incentives of living in a share house, where one can live with others and enjoy social exchange at one's leisure in a shared space.  In response to this thought, an acquaintance responded telling me "when Japanese are living with foreigners, many of them are going to want to speak in English, but since they probably cannot all speak English fluently, it'd be great if, for example, a tenant could pay reduced rent in exchange for teaching English once per week."
Certainly such a system would have merit for everyone as Japanese would be able to naturally pick up Japanese, and the lessons would be short so foreign residents are not be bothered by teaching English.  With this mind, we did a bit of research to see if any management companies run such a share house, and were surprised to find one.  Cozy Village Jasmine, run by Tulip Estate which manages women's only share housing, also has a small training program for Japanese people who'd like to learn English so we rushed over to visit. 
So without further ado, welcome to Cozy Village Jasmine.

Detail Page of Cozy Village jasmine
 
 
 

Living Space

 

English program

 

Living together with 5 people here in such spacious areas, it wouldn't be an exaggeration to say there's plenty of room.  With the sofa and dining table each have their own unique looks, it's great that you won't run out of space in the living room while other residents are having English lessons.

 

 

If you happen to be a native speaker of English, and can naturally get along with others sharing meals and watching television together, you'll be more than welcome and are sure to make friends with the other residents.  If you give private lessons one hour a week to Japanese residents aiming to learn English, you'll also receive the benefit of reduced rent.
 
 
 
 

About a 10 minute walk from the Ochiai Minami Nagasaki station, we've arrived at the women's only share house Cozy Village Jasmine (5 rooms total) complete with a wooden deck and garden.  In the beginning of summer, the spacious living room is wrapped in the sweet smell of Jasmine.  In such a tranquil environment, we have the feeling a small number of women living together are sure to get along together quite well here.  Those who take a look at this house and instinctively think "Oh, I can start a new life here!", we think it'd be best to trust your instincts.

 
 
 
 
 
 
 
 
 
 
 
 

 Well then, let's start with a look at the entrance.
 
 There's also a sign by the entrance.  Now let's step inside.
 
 Stepping into the entranceway you'll see stairs leading up to the 2nd floor as well as a door leading to the living room.  Since we're starting on the 1st floor, lets head to the living room.
 
 
 
 
 
 
 
 
 
 
 Opening the door in the entranceway, you'll be greeted by a large living room.  While this photograph was provided by the manager, 5 people sharing a space like this should still be quite comfortable.
 
 
 
 
 
 
 
 
 
 
 

 

The sofa also seemed to have more than enough room to relax on.

 
 I can picture everyone relaxing together watching TV.
 

Here's a closer look at the TV and DVD player.  Everyone's sure to watch movies together in a setting like this.

 
 
 
 
 
 
 
 
 We also wondered if the items on the wall were shared by the residents.
 

 A quick look at the wallpaper.

 
 
 
 
 
 
 
 
 
 Here we have the dining table.  Perhaps this is where the English lessons are held.
 
 You'll also notice there's a blue carpet and a large window accenting the living room.  We found the great lighting and view of the courtyard through the window to be quite pleasant.
 
 The living room also has a shared computer.
 
 
 
 
 
 
 
 Stepping outside of the living room, you'll see the large courtyard and wooden deck.  Great to hang your laundry to dry, or to simply spend time together with other residents.
 

Personally, we really liked all the greenery outside of the living room.

 

There's also space outside for the large trash box.  Now let's go back inside.

 
 
 
 
 

We're now in the kitchen (picture provided by the manager).  Connected to the living room, you're sure to spark conversation while cooking.  Even though residents are learning English, there's no need to be sitting at a table like in a school, so residents can talk in English while cooking, gaining experience while having fun.

 
 
 
 
 
 
 
 Another look at the kitchen.  There's sufficient space for cooking in here.
 
 Complete with a microwave, toaster, and rice cooker.
 

There are two induction cook tops.

 
 
 
 
 
 
 
 The house is already fully equipped with cookware, so you can save a little money when you move in.
 
 Naturally, garbage is sorted here.  Since everyone lives together here it's very important.
 
 There's a door leading outside next to the kitchen as well.
 
 
 
 
 
 
 
 The intercom is also equipped with a camera, so it's easy to deal with sudden visitors.
 
 Here's a look at the stairs leading up to the 2nd floor.
 
 A quick shot of the lighting.
 
 
 
 
 
 
 
 Here is the 2nd floor hallway.
 

There's also a bathroom on the 2nd floor.  A bath in a share house is a rare sight, but its sure to be a great addition for the ladies here.

 

Here's the message board.  Its use depends on the residents.

 
 
 
 
 
 
 

Every floor has a restroom.  This is the 2nd floor restroom.

 

The restroom on the first floor is very spacious and has a stylish feel to it.  Of course, it includes bidet functions.

 

Further in past the kitchen there's a washing machine.

 
 
 
 
 
 
 
 
 
 Unfortunately, there were no vacant rooms when we came to visit, so all photos here have been provided by the manager.  This is a photo of room 203.  There's also a loft, so the extra space can offer a lot of use.
 
 
 
 Room 201
 
 Room 101
 
 Room204
 
 
 
 
 
Although it's been said in a book that "the shortcut to learning a language is speaking", there are certainly people who are thinking "I have no opportunities to speak" or "even if I learn how to speak at a language school, it's not easy to remember."  In that sense, whether it's you as the teacher or the person studying language, we thought learning a language through day-to-day living is extremely effective.
Although we mentioned it in the initial review, living together with residents of a different nationality and having daily conversation in a different language is sure to be interesting, and for teaching English you can live in the share house for only half price.  I'm sure some of you are thinking, "even to say I'm an English teacher, it's only a few hours a week so what am I'm teaching?" and that's definitely a good question to ask.  So be sure to click here to inquire for more information.
 "I can speak English, but I want to blend in more with Japanese and learn about Japanese culture."
"I'd like to live in a nice location in the city at a reasonable price."
"At any rate, I'd really like to make more Japanese friends."
If this sounds like you, why not consider living at this share house? 
For the record, because this share house is women only, of course the English teacher has to be a woman.  The Manager prioritizes offering a "peaceful life," so we believe you'll have many great encounters living here.
 

 

 

Operator
「Tulip Real Estate」

On a typical woman's salary, simply living in Tokyo takes all one's energy. However, it's important to invest in oneself for a better career while you're young. That is why we opened our share house to offer you an economic, convenient, and safe environment to live in, where you can give It your all without having to be alone. Naturally, the manager is also a woman. Please feel free to consult us with any questions you may have.