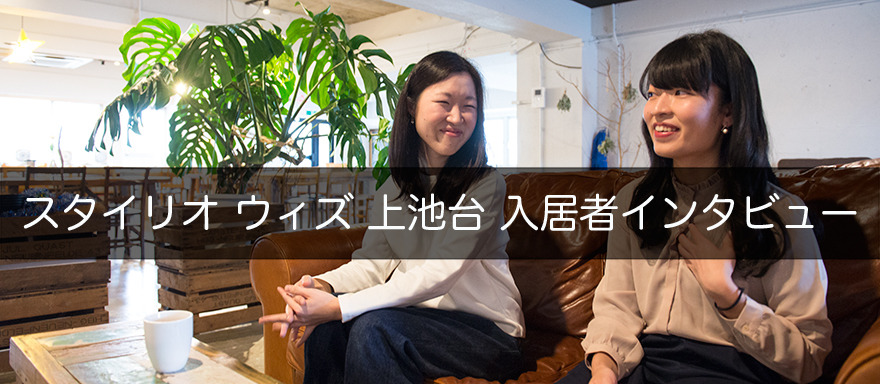 PROFILE(L-R)
・Haruka: Freelancer, 1.4 years in the house / Ami: 1st year travel agency employee, 11 months in the house
A community drawn together by cuisine
Life in a sharehouse brings new encounters and cultivates a person's values. Living in one for the first time can be nerve-racking.
That's why we head off to find out exactly who is living in these sharehouses!
We visited Stylio With Kamiikedai, a sharehouse in the Ota Ward's Kamiikedai with a theme focused around food. The main feature of the house is its common area, which include a large kitchen and dining area, lounge space and work space. Timber furniture used throughout the interior creates a natural and warm atmosphere within.
Events such as Christmas and birthday parties are held at the house and often catered by the residents themselves. Stylio With Kamiikedai not only has all the bells and whistles, it also fosters strong bonds and interactions among housemates.
We spoke to two residents whose own values and ideals broadened by living in such an amazing house. Let's hear what they have to say!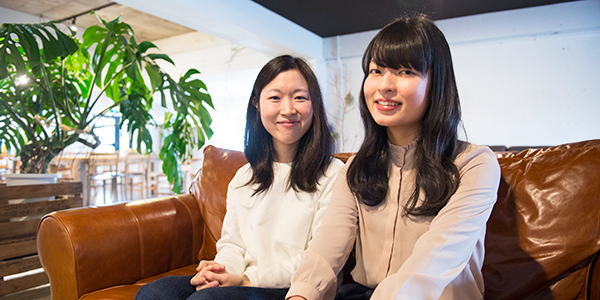 These two cheerfully sat down to speak to us for a calm, laid-back conversation.
---Is this your first time living in a sharehouse?

Haruka

Yes. I lived on my own before, and I never cooked meals like I do now. I hated coming home to an empty apartment so I always ate out with friends and begged them to keep me company. I hated living there (laughs). Now I love where I live and can't wait to get home whenever I'm out! (laughs)

Ami

I lived in a sharehouse in Australia, but this is my first time in Japan. I didn't know what to expect of Japan's sharehouses, though, and did wonder what it would be like before moving in.

---How do you like living here?

Haruka

There's something going on everyday. (laughs) There's just so much excitement, and you learn so much from others. I'm glad I chose to live here because I have grown a lot since moving in, and I want to share the greatness that is a sharehouse with people who have never tried it.

Ami

You gain a lot of big brothers and sisters living in a sharehouse. I started living here when I was just leaving school and starting to make my way in the world, and having these people there to show me different lifestyles and ways of living was very helpful.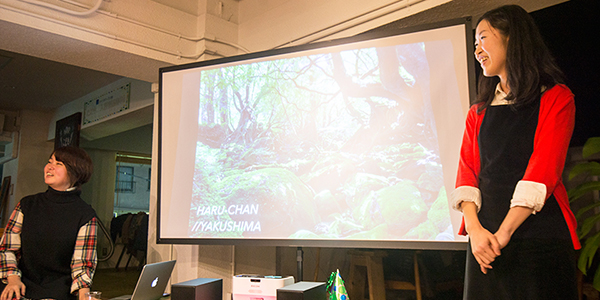 An event lead by housemates. House parties are easy to plan in a sharehouse.
Living together, creating together, laughing together
---Do you have any favorite sharehouse memories?


Haruka

I have many. The most recent is from a share mate's farewell party. That particular share mate would always wear stripes, so we made it a stripe-themed party. (laughs) You might think it's a little strange, but everyone gets really into it, creating slideshows and original songs. I find it amazing that everyone is willing to work together like that!

Ami

The Christmas party was also a lot of fun! Friends we had invited to the event left saying how amazing they thought sharehouses were, which made us really happy. I still remember how fun we had, especially when we were exchanging gifts at the end. Everyone got involved, even housemates that don't talk that much and housemates who are usually cool and aloof. I always laugh to myself when I remember that day (laughs)
---How man people came to the Christmas party?

Haruka

There were about 40 people, I guess. Everyone has different lifestyles and commitments, and it's only at these events that we can all get together. There were some really funny gift choices and it was hilarious to see who got who what (laughs)

Ami

I was surprised at how much thought went into the gifts. It was so much fun. I can't describe to you how much fun it was!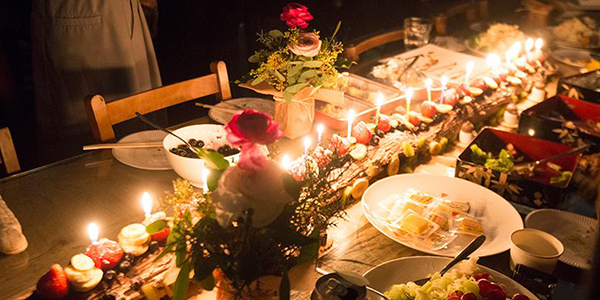 The Christmas party. As one would expect from a food-themed sharehouse, trays of professional-grade party platters line the table.
A giving spirit in the house
---What is the best thing about this house?


Ami

The theme of the house is food, and it's this theme that has attracted such great people to live here. Sharehouses without a theme or even sharehouses with low rent seem to invite all kinds of people. While that may be fun and exciting itself, I think that the people here in our house are a special bunch. I personally love the singer Gen Hoshino, and I might hear one of his song being played somewhere in the house. I love getting to know people who I have something in common with. The theme is really the best thing about the house.

Haruka

I also don't think I would be here if it weren't for the theme. I looked around at many other houses before moving in here, and they all had the same kind of stylish interior design that could be replicated anywhere. This house, on the other hand, has a theme and stories can be created here.
---So, the best thing abou the house is the theme! What else is special about
the house?


Ami

People who live here are very generous and giving. If there were a kitchen on each level instead of one big one, I don't think we would be communicating and interacting as we do. People come to the kitchen to cook, and conversation flows naturally when there is someone else making something at the same time as you. You talk while you're cooking, and then end up eating together, too. I think it's great.

Haruka

People here really have a giving spirit. When I first moved in and was still getting used to things, everyone would offer me food. Food was what allowed me to open up to the others and become comfortable in the house. It's all give, give, give in this house!
---Give, give, give! Wow.


Ami

Yes. Give, give, give! (laughs)

Haruka

The people in our house really are generous, and if you sit down here a feast will soon appear before your eyes. It's like, why do I get to eat such delicious food when I haven't even lifted a finger? (laughs) I've come home tired from work not wanting to cook anything, and when I sat down I had food brought over to me!
Encounter various values and beliefs interacting with others
---Lastly, a word to potential housemates, please!
HarukaYou should definitely talk to everybody! Talk to people who work in different fields, who have a different set of values, and broaden your view of the world. There are also people who are still trying to figure life and things out, and that there is another opportunity for interaction. Talk and communicate with these people and allow them to help you shape your own value system. Also, be generous, always offering others food and drink. Maintain the sharehouse has a warm, welcoming environment.AmiWhen I first moved in I was always wondering if I was sitting in someone else's seat. (laughs) Everyone needs a little courage at first, but this house is very welcoming and you can sit where you want, or even just come down into the common areas to say hello and everyone will talk to you. I think it's best if you make the first move, though. It's easy to get along with everybody if you try. We are all friendly and you can talk to us easily. That's all there is to know!---From their expressions when they spoke, it is evident that these two are taking full advantage of their sharehouse lifestyles.Thank you for taking the time to talk with us, Haruka and Ami!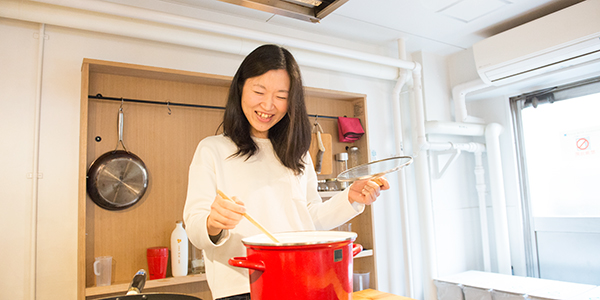 The kitchen, Haruka's favorite place. We got her smiling in this shot for us.
The two women we interviewed today are very close, and even go to the public baths together. Living under one roof creates special bonds between people regardless of age.
During the interview, the names of many people came up.
Among those names were managers of local stores, and also people who have since left the house due to job transfers.
It is by living in a sharehouse and connecting with not only fellow sharemates but the locals, too, that bonds form and your own view of the world begins to take shape.
If you are an aspiring chef, a foodie or a creator and you are interested in this house, why don't you make contact and find out more?