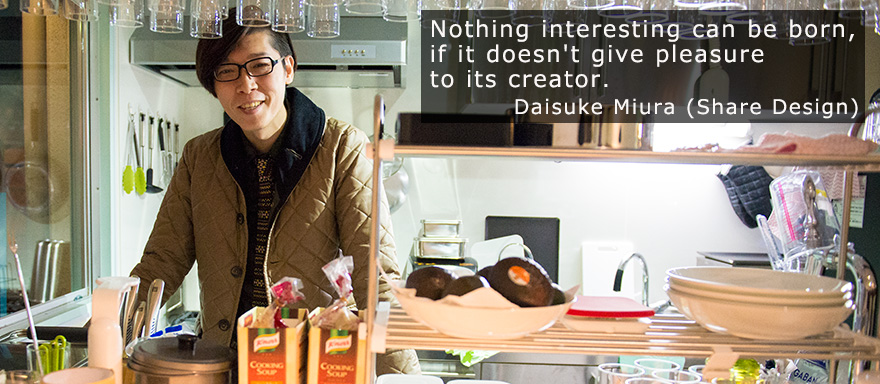 PROFILE
Daisuke Miura of Share Design. Former rugby man who has played at Hanazono stadium, an opportunity every high school rugby player longs for. Currently working mainly in share house management and interior design.
Pursuing only what they find to be interesting
Just living with others isn't fun. So says Daisuke Miura from Share Design, which manages many different share houses, including the large-scale famous houses that have their own commercials on TV. Constantly pursuing new and exciting things and seeing the reaction and transition of those involved is what is fun, and with that in mind they have taken on the new challenge of a 'Share House x Café'.
This time we bring you another fantastic story on company president Mr. Aso's hopes and expectations, the road to the opening of the café and what is in store in future for Share Design.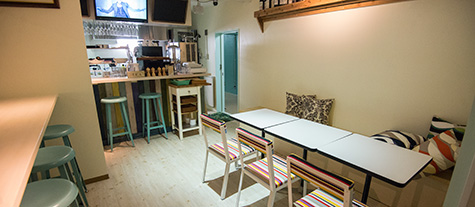 The café opened on the 1F of Riverside Terrace Aoba Daikanyama.
---Firstly, tell us what lead you to making Riverside Terrace.

Mr. Miura

With this share house I realized that there weren't many places that could be used as a SOHO (small office/home office), and thought well in that case what about making a café downstairs? Also it's a good area for it.

---What exactly do you mean by 'good area'?

Mr. Miura

Naka-Meguro is nearby, and walking here from that direction there are plenty of places to eat lunch, but when you get up this end there aren't many places to just chill out and have a cup of tea. Adding a café to a share house has always been something our company president has wanted to do, so we thought this was the best place to do it.

---Does the company president Mr. Aso like cafés?

Mr. Miura

Yes, he does quite like them. About one year ago we were ordered by the president to learn how to make bread, so we all went to a bread factory to experience how to make it by hand. I guess it all started from there.

---That's quite an order! Do the skills you learnt there come in handy with this share house?

Mr. Miura

I never imagined that we could pull of a café, so at the moment all I can do is dough selection. In future I myself and the other staff members would like to be able to offer some high-quality delicacies in the café. I'd even love to get anyone living in the house with an interest in the café and bread making to help out.

---So you're saying that you want people who love cafés to move into the house?

三浦さん

Well yes, I would recommend it! We will of course continue to manage the café within the company ourselves, but should there be someone living in the house interested in managing a café I'd love to make that possible. While we don't know if that will ever come to be, should it happen our concept allows for it. It's also possible to work in the café part time, and if they'd like to I want to get to tenants to help out. No need to commute to work so it's a cinch! (laughs)
Creating magic by incorporating different things together
---It really is a free and practical share house, isn't it.

Mr. Miura

Our company generally speaking loves fun and interesting things, so we want to incorporate as many of them as possible into one building and see how the tenants react and what kind of communication it generates. We want the locals to come in as well and it's okay to bring pets to the café's terrace area, so here's hoping we can create some new magic with this one.

---What kind of lifestyle can one experience within this 'Share house x Café' concept?

Mr. Miura

People who stay with us for the SOHO environment can use the café for tea and coffee breaks of course, and also as a place to talk a little bit more comfortably with their clients after a business meeting. Or, if you give the café a call they can also deliver up a coffee to your room. Tenants can even invite friends over and call up for some tea from their room. We basically just want to get everyone to have fun using the café.

---Thank you. And lastly, a word to our readers?

Mr. Miura

Share Design is constantly searching for ways to entertain people. We don't just say 'Hey! We have a nice, clean living room and a lovely kitchen so come on over!'. On top of all of these things we also continue to deliver other ways to delight you. So with that said, please look forward to hear more from Share Design and its houses in the future!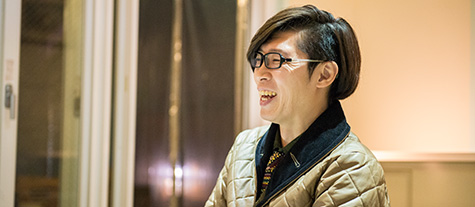 ;
In order to test this experiment of managing a café within a share house, tenants will receive a 'morning service' on a trial bases for 6 months. There may be apprehension on both the management and the tenant side of things while attempting such a challenge. But on the other hand am I the only one who thinks it's extremely lucky to get free breakfast when you wake up of a morning?
During the interview Mr. Miura mentioned that they were all taken to a bread factory on the whim of the president. To me, he appeared to talk about the occasion as you would recalling great memories. They might have all been surprised by the idea at first, but it sounded like the staff all had a good time, and even I couldn't help but smile as I heard the story.
Another unique point about this house is that there is also a soft-cream server in the café and the soft cream is made by using ingredients from a farm in Kanagawa.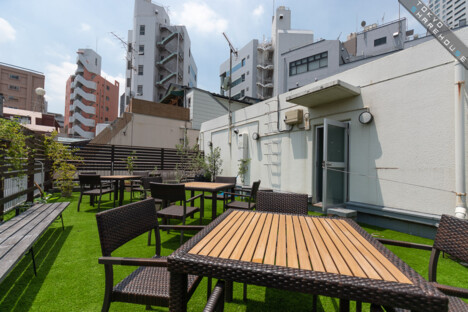 I think I'd really like to make my way down to the Riverside Terrace Café while waiting in anticipation for Share Design's next venture.