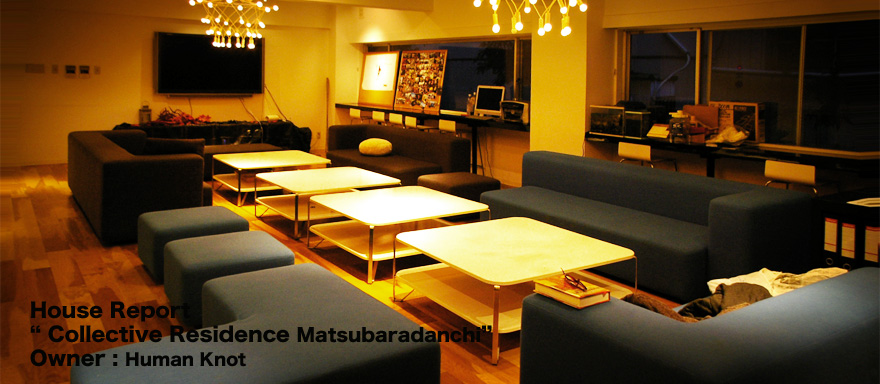 Collective Residence Matsubaradanchi:  In an environment like this, with these specs, and for a great price, you can enjoy a "Smart and Luxurious" lifestyle.
Human Knot Co., Ltd offers housing that highly values social exchange for a life style that is much richer, more fulfilling, and more extravagant than could be found living alone.  This time we've paid a visit to the Collective Residence Matsubaradanchi run by Human Knot Co., Ltd which has undergone remarkable redevelopment in the town of Matsubaradanchi.
When we first arrived, we were surprised by the extravagant and comfortable  facilities.  In the designer community lounge you'll find stylish sofas and furniture, a 65 inch big screen TV, a billiard table, and bar counter.  There's also a sound proof music studio perfect for music lovers, a carpeted fitness room, a lecture room complete with a white board and wireless LAN internet, and even a beauty room for the ladies.
The manager's reasoning is that "fun " is a common means of communication throughout the world.  Fun gives birth to social exchange, and he hopes this will take shape to create a community that offers an enriching experience.  When we talked with residents, they were all very open and it turns out that their friends, family, and even people who previously lived in the share house frequently visit.  Collective Residence Matsubaradanchi is an excellent share house where people quickly become friends, which would not be possible without its wide array of facilities.  It's easy to become a part of this community thanks to the size of the facilities, so for those who have yet to experience a share house lifestyle, this may be the right place for you.

Detail page of Collective house Matsubaradanchi
 
 
 

Lounge

 

Sound proof Music Studio

The lounge is lit by chandeliers with a refined taste creating an air of extravagance.  It's furnished with stylish chairs facing in various directions, a 65 inch big screen TV, and even a billiard table.  Before you realize it, you'll find you've been here for hours.  With everyone gathered together, you can freely and quickly change the room, whether you're throwing a big party with games, enjoying a movie, or simply to enjoy each other's company.

 

For you music enthusiasts, here's a sound proof music studio.

You'll no longer have to worry about the prying eyes of others when you want to enjoy your favorite instrument.  Not only can you enjoy practicing your favorite songs, but you can also take advantage of the share house to play together with other residents, give each other tips, or even exchange instruments if you'd like.
| | | | | |
| --- | --- | --- | --- | --- |
| |   |   |   |   |
|   |   |   |   |   |
| |   | |   | |
|  Collective Residence Matsubaradanchi is only an 8 minute walk from the Matsubaradanchi Station.  Here's a look at the outside. |   |  A quick shot of the logo on the wall near the entrance. |   |  To the side of the entrance way, there are mailboxes for the residents. |
|   |   |   |   |   |
| |   | |   | |
| And now we're going through the entrance way. |   |  When first enter, you'll be greeted by a very large entrance hall. |   |  The residents have each been given a shoe box with a playful design. |
|   |   |   |   |   |
| |   | |   | |
|  You'll also find the entrance hall is furnished with amusing items such as cushions and bicycles. |   |  There's also a large message board in the entrance hall where notices are posted for events, etc. |   | Here's a look at their carpeted fitness room.  Looks like it'd be fun to get in shape with fellow residents. |
|   |   |   |   |   |
| |   | |   | |
|  There was also a ping pong table.  You can't help but feel jealous seeing a fitness room this large. |   |  A quick look at the allway. |   | Going all the way down the hall, you'll reach the large living room. |
|   |   |   |   |   |
|   |   |   |   |   |
|  To the right of the entrance you'll see the 65 inch big screen TV, and underneath you'll find storage boxes containing video game systems, DVD's, etc.  With a screen this big, you're sure to have a unique experience holding game tournaments or watching movies. |   |  Further inside, you'll see a message board and tons of pictures featuring all of the residents.  Seeing everyone having so much fun together, makes the room all the more fun. |   |  Here's a look at the living room from the other side.  Even from here you can get a feel for how large the TV is. |
|   |   |   |   |   |
|   |   |   |   |   |
|  Adjacent to the shared space, there's also a billiard table. |   |  Next to the billiard table is the bar counter. |   | On the shelf there are drinks all lined up and ready for you. |
|   |   |   |   |   |
|   |   |   |   |   |
|   Next to the billiard table room is an island kitchen, perfect for those who love to cook. |   | The day we visited, they just happened to be holding an event, so we got a picture of them preparing food. |   | On the same floor there's even a lecture room.  Their facilities have done a great job combining elements of fun and learning.  |
|   |   |   |   |   |
| |   | |   | |
| Whether you're interested in language study or even self-help books, there are plenty of books here in the lecture room. |   | There's also a white board.  This space seems perfect for a seminar. |   |  On the wall there's also a Buddhist sutra regarding the truth of the world.  It's quite profound. |
|   |   |   |   |   |
|   |   |   |   |   |
| |   | |   | |
|  Next to the lecture room is the sound proof music studio.  Plenty of people were sure to be captivated by these amazing facilities. |   |  Actually trying to make noise in the room, you can see for yourself that the walls absorb all the sound. |   |  Moving on, we're going to take a look at the shower room. |
|   |   |   |   |   |
| |   | |   | |
| Here's a look of the washroom.  The wash basins along with the round mirrors and lighting has a stylish look. |   |  A closer look at the wash basin. |   |  There are also items such as hand soap available to be shared with other residents. |
|   |   |   |   |   |
| |   | |   | |
|  All together, it looks like there's a shower room and 10 rooms in total, 4 of which are restrooms. |   |  Before you enter the shower room, there's also a changing room. |   |  A quick shot of the restroom. |
|   |   |   |   |   |
| |   | |   | |
|  Come to think of it, we're still on the first floor.  Let's take a look at the 2nd floor. |   |  One of the features that makes this share house unique is the beauty room. |   | Here you'll find massage chairs, footbaths, and tools to spruce yourself up including steamers ion facial care items, and straightening irons for your hair. |
|   |   |   |   |   |
| |   |   |   |   |
| There's sure to be plenty of girl talk when all the girls get together in here. |   |   |   |   |
|   |   |   |   |   |
| |   |   |   |   |
| |   | |   | |
|  Thankfully there were open rooms for us to see, so we'll start off showing you room 331. |   |  Every room is furnished with air conditioning, a desk and chair, curtains, and storage space. |   |  Here's a shot from another angle. |
|   |   |   |   |   |
| |   | |   | |
|  Next up is room 230. |   |  One of the walls has been colored black, giving the room somewhat mature look. |   |  Complete with closets, it looks like there'd be no problems living here considering you can freely use the community space. |
|   |   |   |   |   |
| |   | |   | |
|  And now room 225. |   |  This is one of their high grade rooms with a different material for the floors. |   | The closet is also very large, making this a great room for someone with a lot of clothes. |
|   |   |   |   |   |
Visiting this share house, we were simply amazed to see facilities furnished so well for such a great price.  We'd like to think those who come to visit this share house also feel the same way.
Although there's a bit of commute time to the city, the share house compensates with its luxurious community space containing elements of learning and fun as well as the rooms ensuring privacy.  It seems perfect for those who'd like to meet lots of new people while having more choices in how to live.  Even if share house is full, they can be contacted at any time should they be expecting vacancies, so those interested in the share house lifestyle please be sure to contact them with your questions.
When speaking with residents, what left an impression on us was that the manager listens to the residents and does his best to accommodate their requests.  Considering there are so many people living together, one would imagine problems surface now and again, but felt the manager and residents are very close, and they've created a warm community through mutual respect.
 In addition, the residents were throwing a year-end party the day we visited, which is why we had the opportunity to speak with the residents.  At any rate, with such open and interesting residents, again we would like to introduce you to this share house, so those who have yet to experience life in a share house, or are moving to Tokyo from the countryside to meet people from various industries of business, living here would make life much more interesting.
 
 
 

Operator 
「Human Knot Co.,ltd」

 We believe that by allowing people to build relationships, help one another, motivate each other, and lift each other up, we can create a much more rich and satisfying life for residents. Our mission is to create that environment so that people can freely build relationships with others smoothly and without worry.