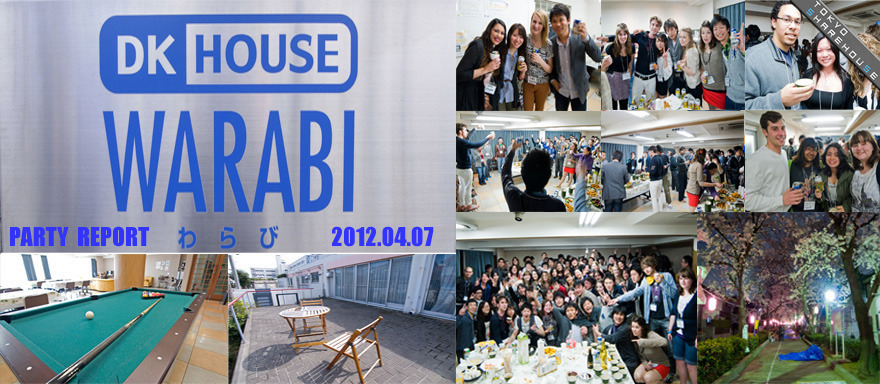 A Hanami party while peeking at the evening cherry blossoms, 100 members strong!「DK HOUSE WARABI」
Yesterday, I was allowed to attend the share house event at "DK House Warabi" run by Daiichi Kousan.
Speaking of April, it's the season for new encounters.  The staff at Daiichi Kousan as well as the residents already staying at the share house planned a Hanami party for their new share mates.  With cherry blossoms in full bloom, fostering feelings of anticipation as we welcome the new season, this was the perfect day to hold such a magnificent party.
The meeting place was the shared lounge inside the share house, and there were over 100 attendees.  People as far as the eye can see, and the room was enveloped in a strange air of excitement.  At first I was also overwhelmed by the atmosphere, but as we proposed a toast the party got started and any sense of uneasiness was soon nowhere to be found.  Before I knew it, I had naturally come out of my shell and the party was in full swing as everyone was enjoying the party in their own way.
I also heard the manager who resides at the share house say "'who's meeting who for the first time?' or 'who's been living here for how long?', these sorts of things don't matter anymore at a party like this."Hearing that, I felt that this was the true appeal of a share house.  You can't say they're family, and saying they're just friends isn't quite right either.  With "livelihood" at its core, it's because you meet these people through day to day living that the barriers between you and others will disappear in the midst of everyday life before you realize it.
Today I'd like you to have a look at a party that will also become a place for new encounters.
「DK HOUSEWARABI」House Details Page
"DK House Warabi" was originally a dormitory that was remodeled into a share house.  In addition to the spacious shared lounge, it has a study room, training room, and even a spacious Japanese style reception hall.  Also, the large common bath features a sauna.  The manager who resides at the share house is very friendly, greeting everyone with a smile, so I think you'd be able to move in without any troubles.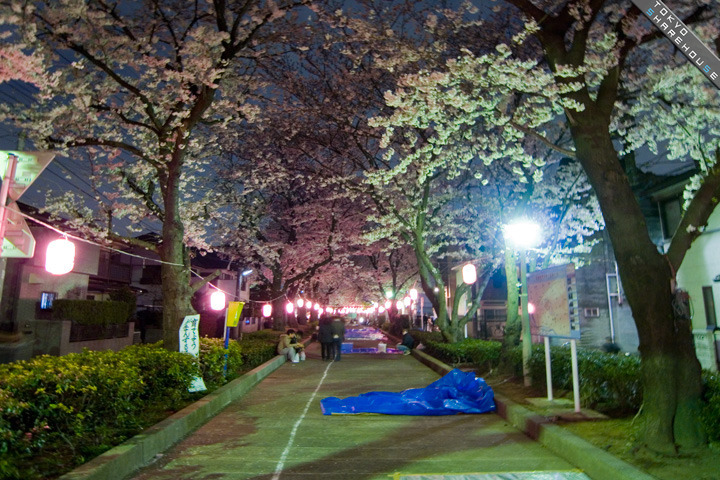 "DK House Warabi" is a 13 minute walk from Nishikawaguchi Station in the city of Warabi in Saitama prefecture.  Although there's a bit of distance to the share house, there are plenty of cherry blossom trees along the street in front of the share house, and it looks like it'd be pretty nice to take a stroll through the area as well.  There was also a festival being held that day.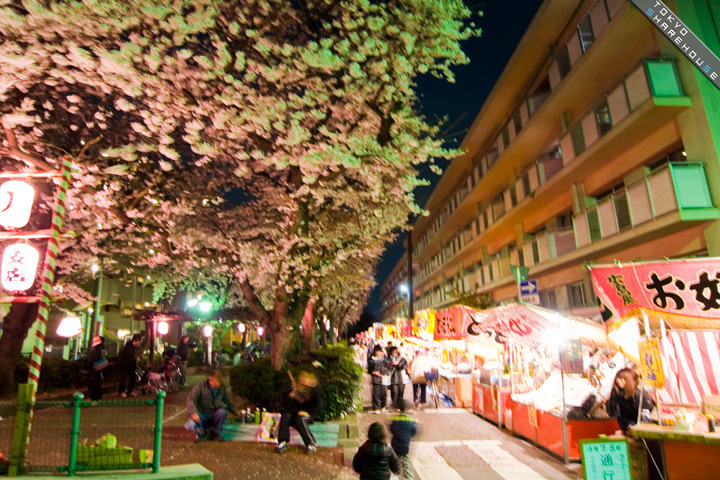 Here's a look at the street, busy with food stands.  That day was a little cold for cherry blossom viewing, but there were a surprising amount of people laying out vinyl sheets and enjoying drinks.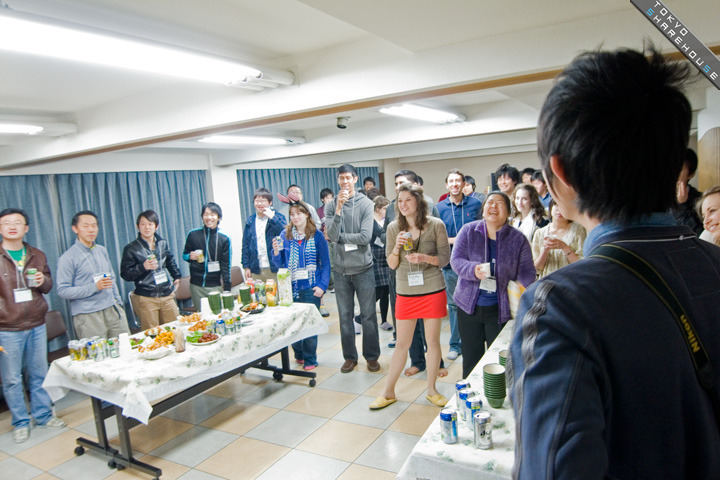 While taking pictures of the evening cherry blossoms, before I knew it, it was time for the event to start! I hurried to the meeting place, and somehow I made it in time!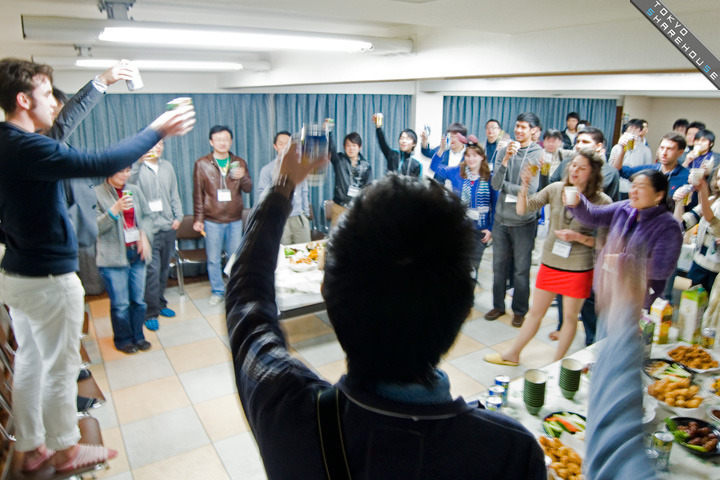 And so with a toast from the two gentlemen standing on the chairs, the curtain raises on the big event with about 100 people meeting in this one building.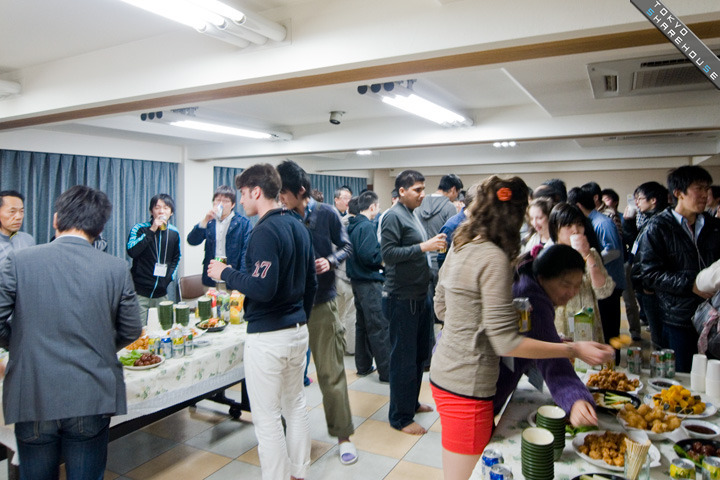 Since you can't start conversation on an empty stomach, everyone first focused on the delicious cuisine lined along the tables.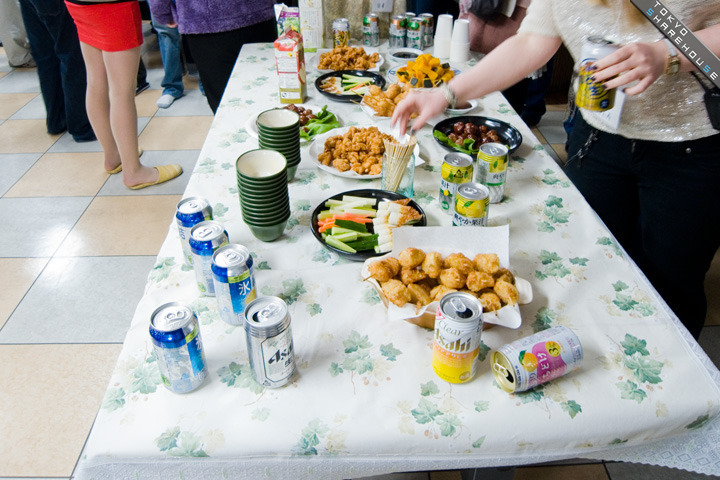 Because there were so many people (or rather the food was so tasty), despite them constantly bringing in more food, it was gone before we knew it.  In contrast, the empty beer and shochu cans kept increasing. (lol)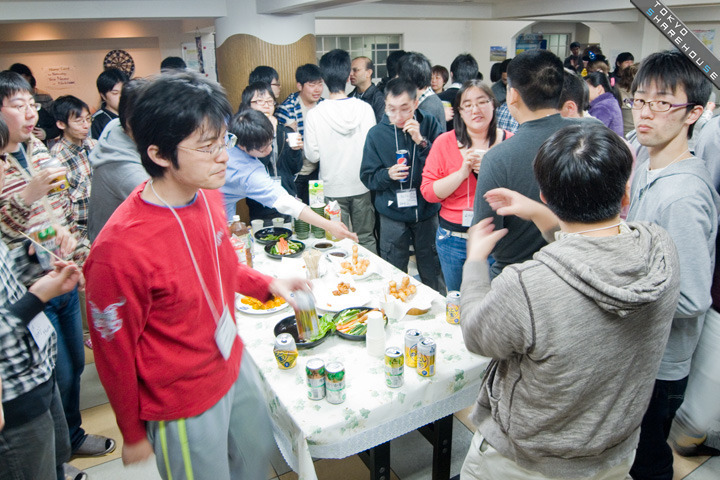 I took pictures while constantly moving about the venue, but there were still a surprising amount of people.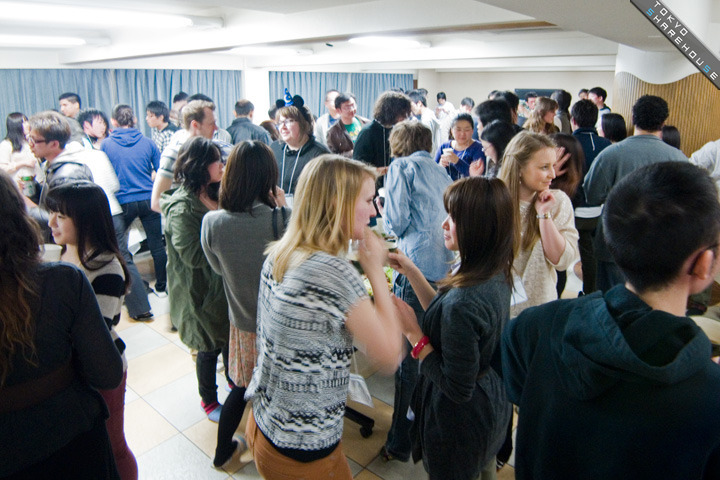 Everyone seems to have satisfied their appetites, and conversations gradually stirring up!  The drinks also seem to be progressively helping everyone relax!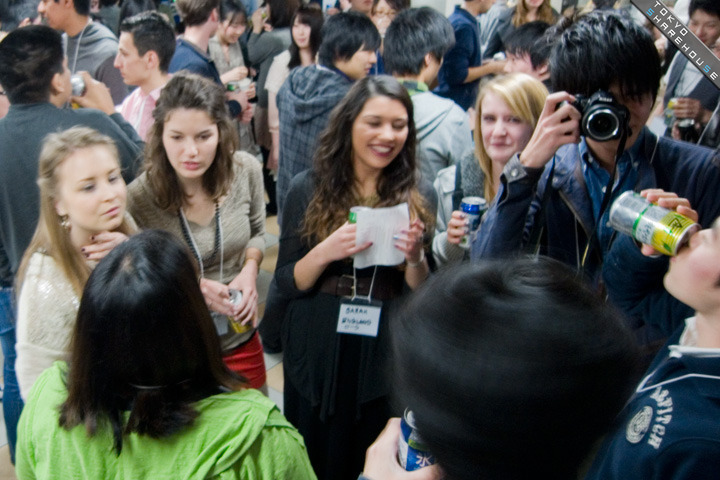 No matter where I go, everywhere there's lively conversation and you can hear people laughing.  It looks like they're really having a good time.  Now then, from here I'll show you some snapshots of the residents.  Enjoy this festive collection of 15 photos!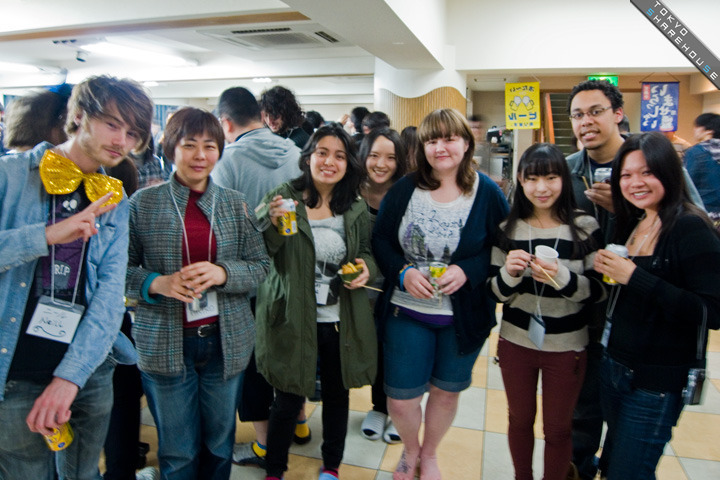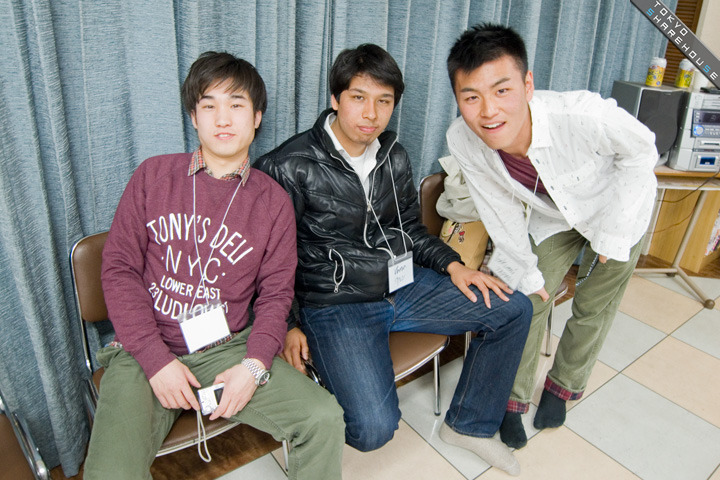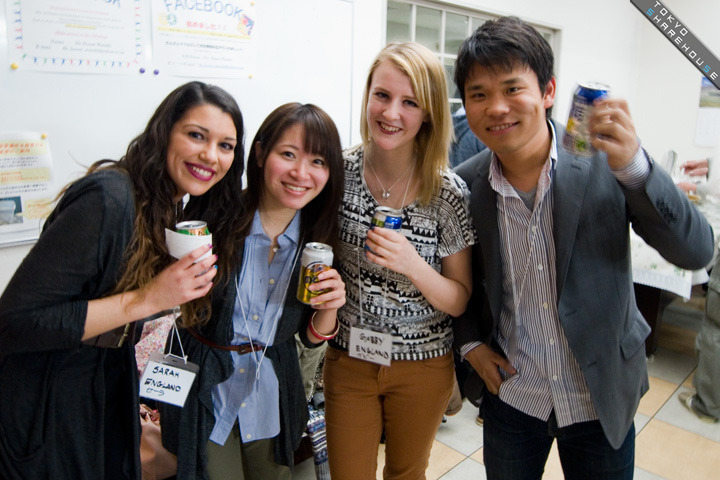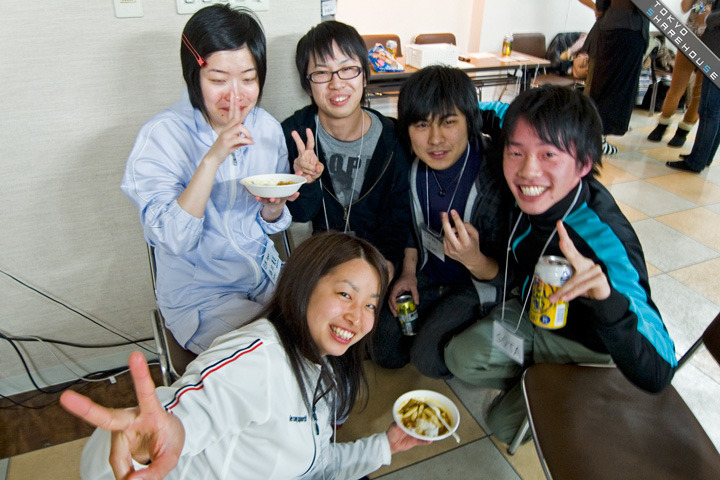 With homemade curry in one hand, everyone say cheese!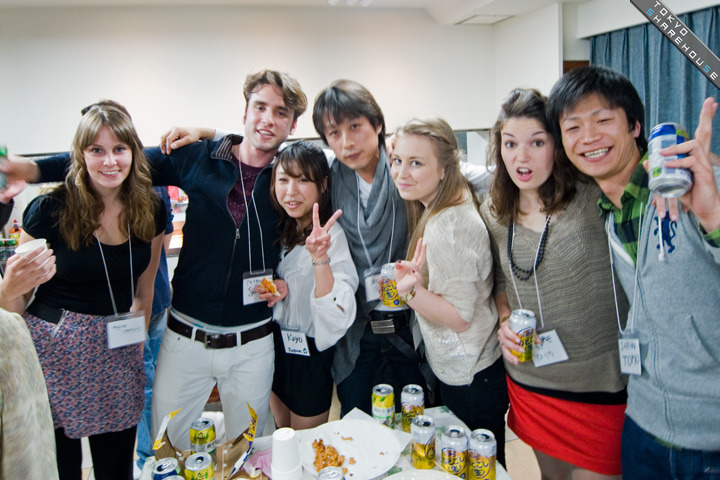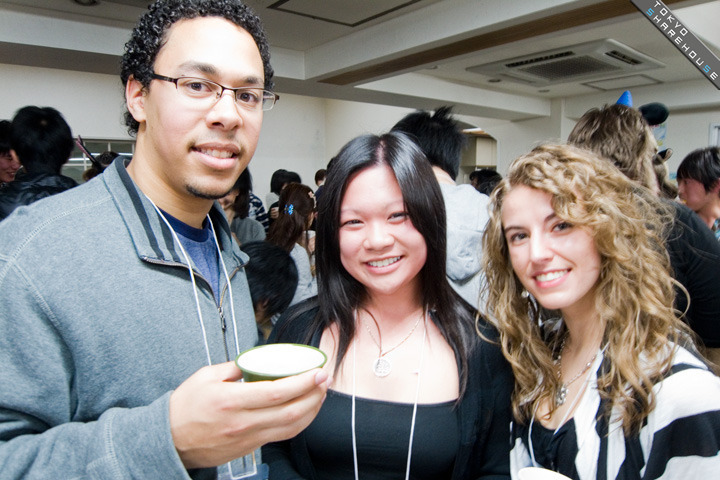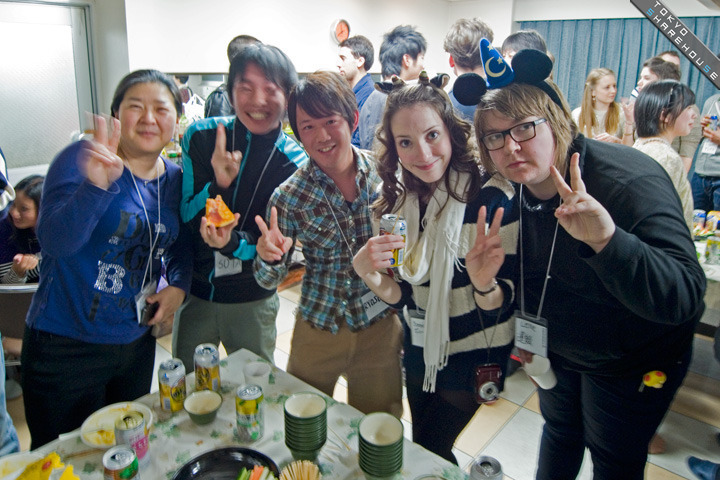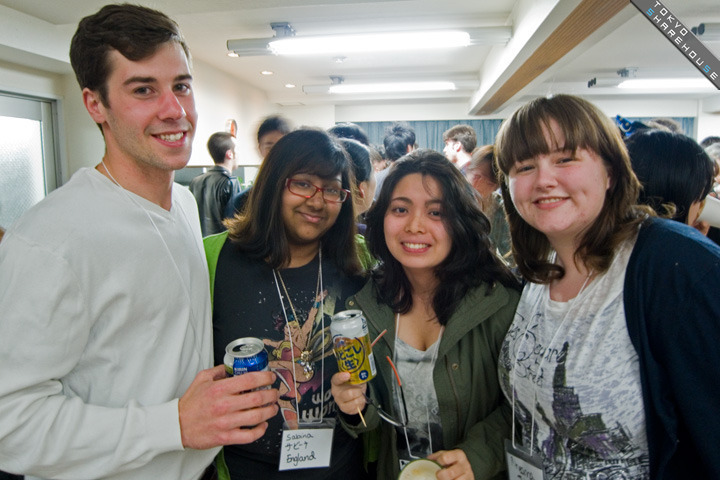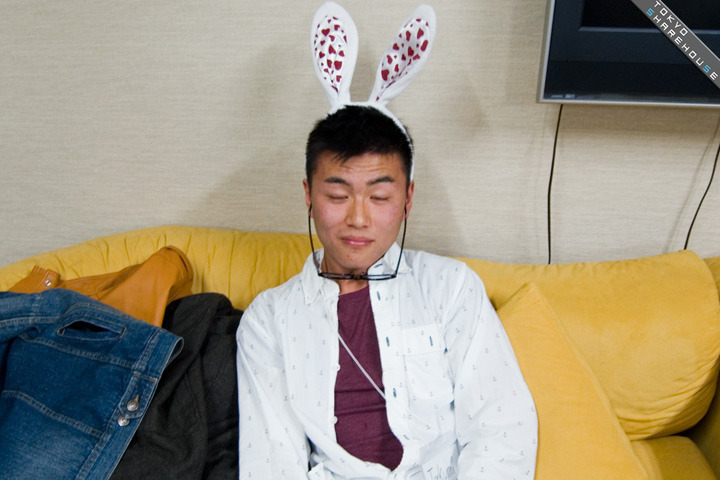 What's this?!  Of all places, I found a drunk bunny!!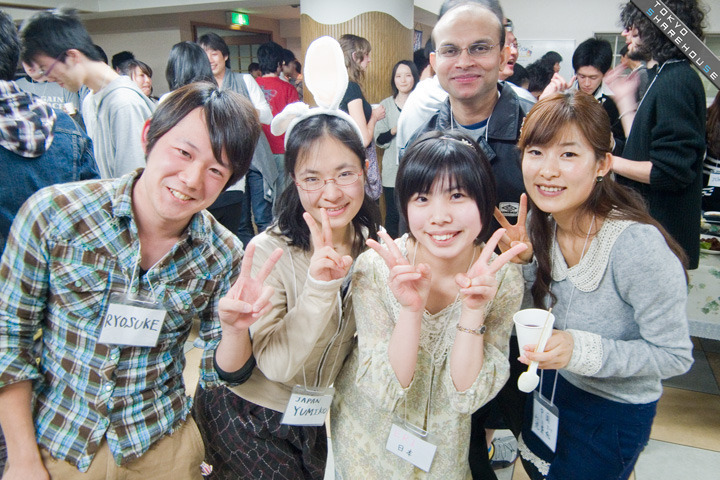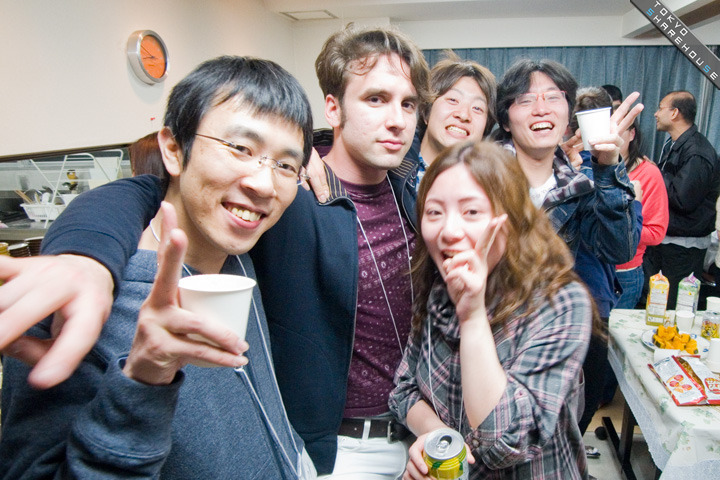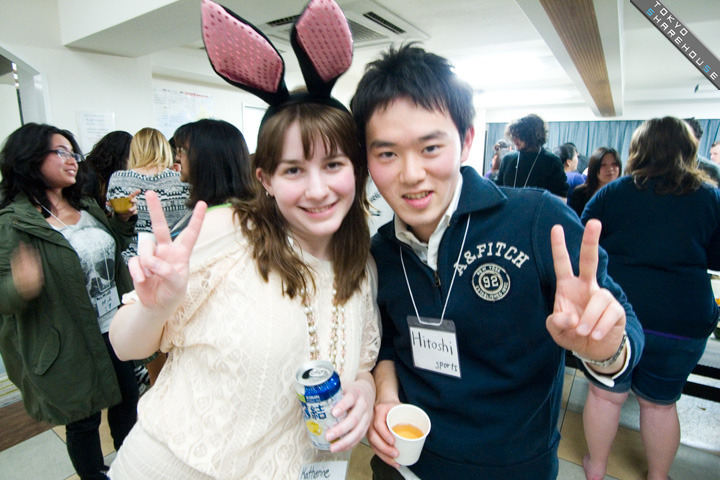 Here I found a bunny with a rather charming smile.  I wonder where the drunk bunny from earlier went?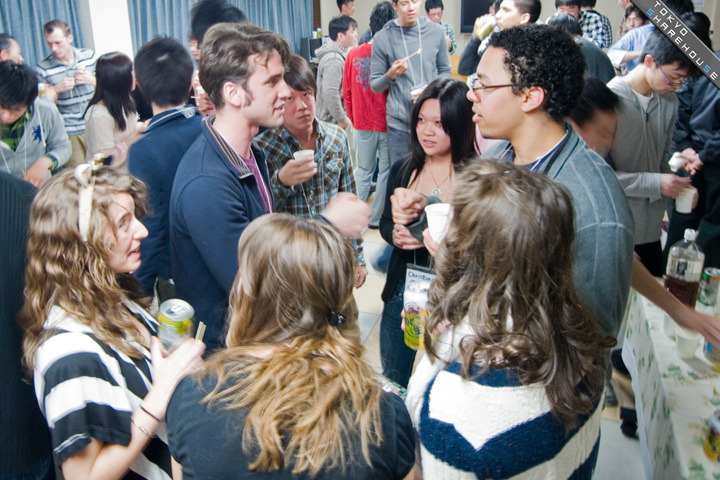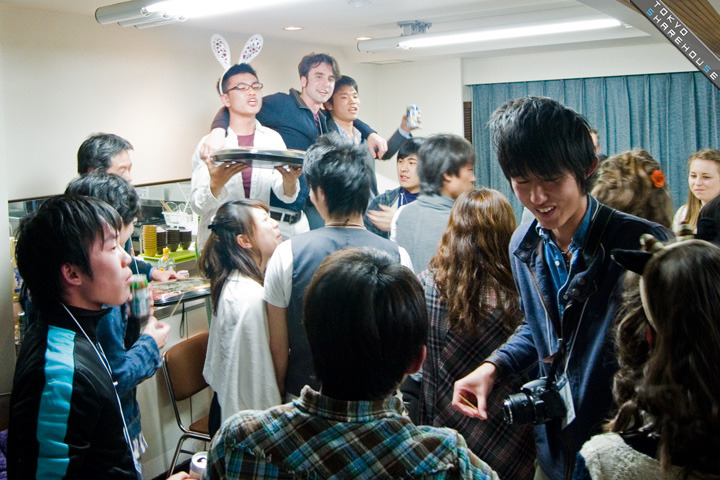 And now, while everyone's in the middle of having a good time socializing, the manager has brought in sushi!!  In an instant, you could hear people yelling "sushi! sushi!" throughout the meeting hall.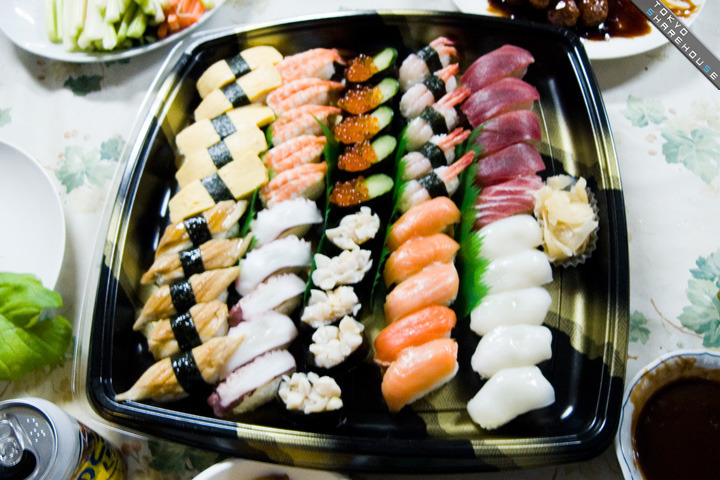 This is the sushi combination platter.  A colorful assortment of sushi including tuna, squid, octopus, shrimp, and salmon.  A treasure chest of the sea!!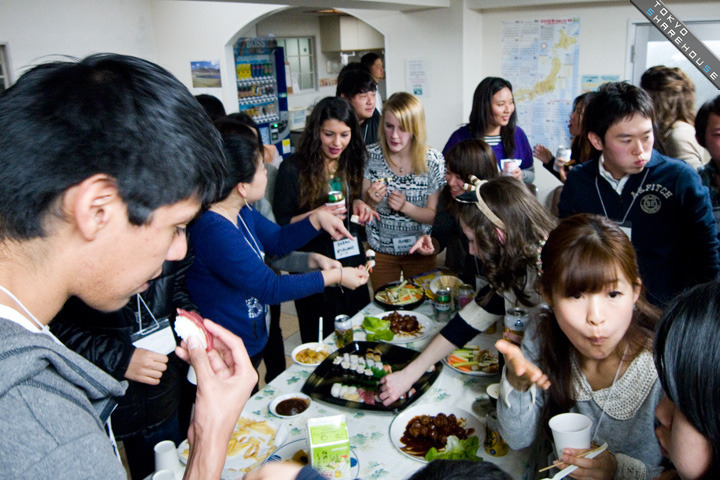 The sushi seems to be popular with the foreigners as well.  Looks like it's not an exaggeration to say it's already become an international delicacy!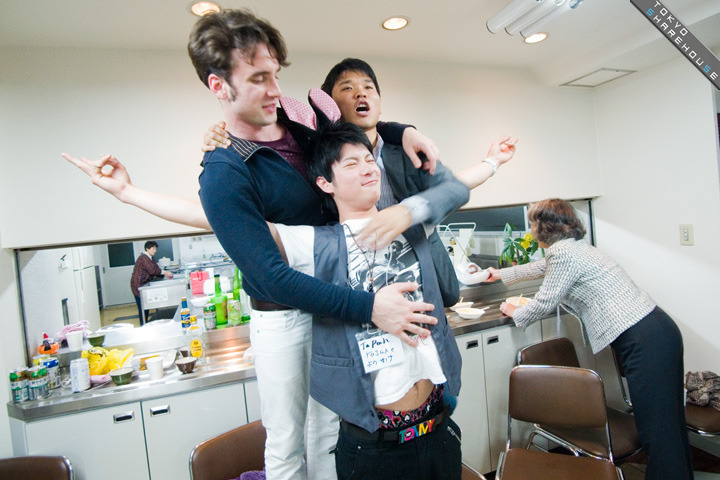 After everyone'd gotten their hands on some sushi, it was about time for the party to head into its final stage.  You could hear them call out, "Everyone, we're going to take a group photo, so please gather together in the back."  But getting this many people together in one spot is not an easy task.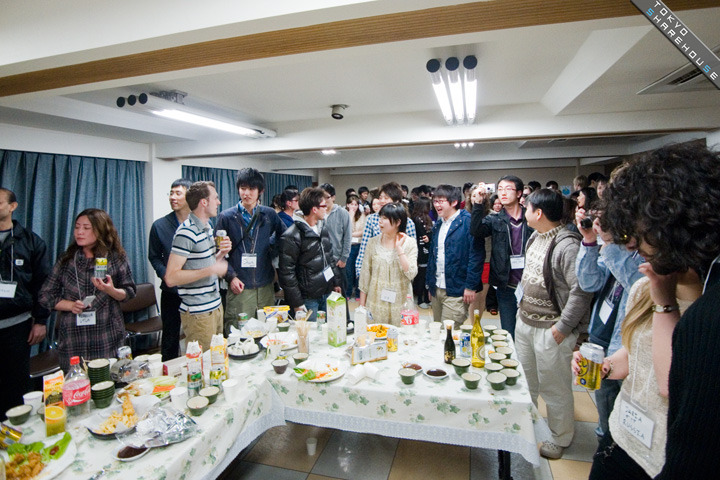 Gradually people began gathering together, but the talking didn't stop.  The talk was nonstop like a machine gun, so voices couldn't carry very well...
One representative with a desperate plea somehow managed to calm the crowd and was met with applause.  As the meeting hall fell quiet, it felt as if everyone was suddenly in synch with each other.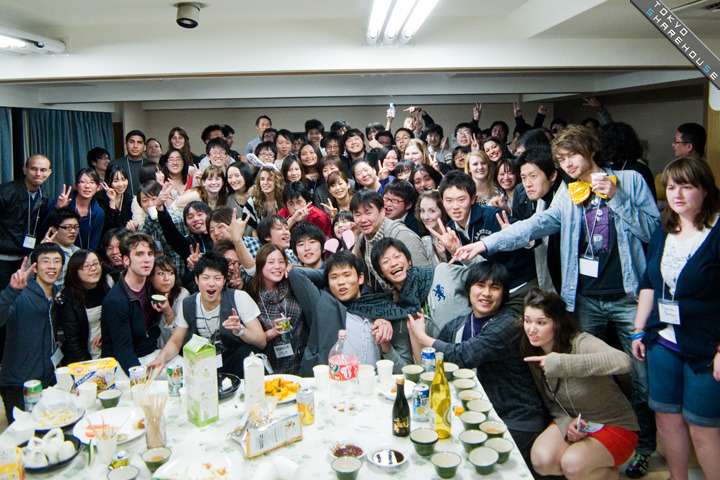 They were finally in position for a group shot, I aimed for the moment when they put on their best faces, and hit the shutter button!!  They have really great smiles don't they?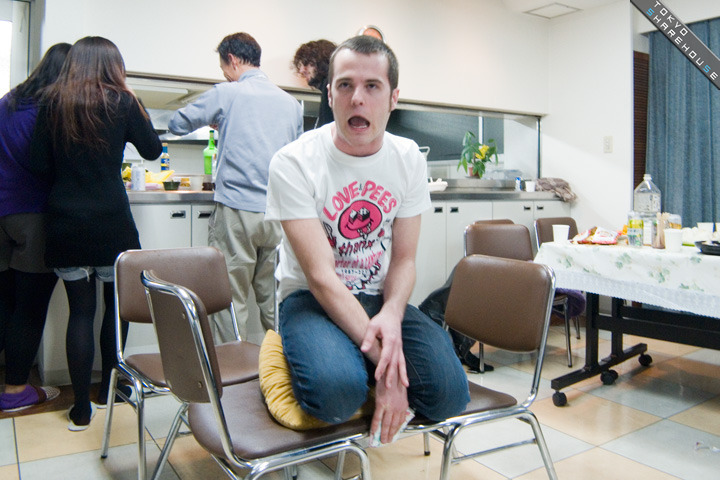 After taking the group photo, one of the foreign residents put on a display of Japanese-style comic monologue, a means of amusement with rich history in Japan.  He got started on that improv stage!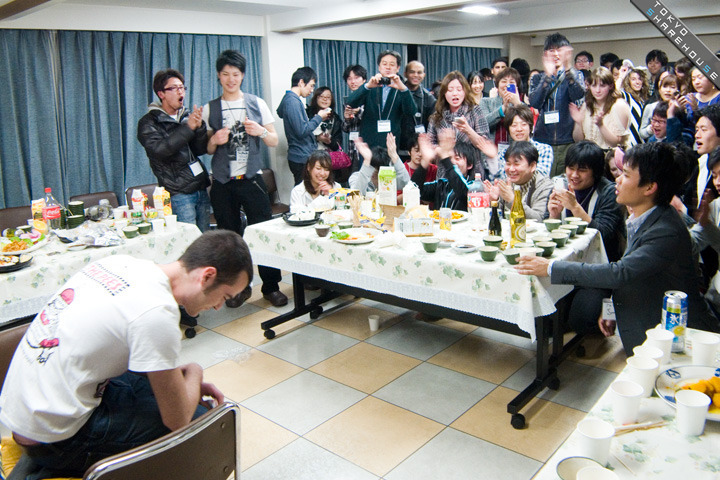 When the performance ended, there was resounding applause from the audience!  I was deeply moved to see someone take such a deep interest in Japanese culture.  Come to think of it, there aren't any foreigners who perform this type of Japanese story-telling are there?  By all means, it'd be great if he became professional and became a member of "Shoten."
 Today I showed you a Hanami party, but it seems they will be holding events and parties on a regular basis, so those looking to move into a share house and build relations with lots of people, or those who have become interested, please be sure to send in an inquiry.  You could probably make 100 friends living at this share house! 
"DK House Warabi" has a very international flavor, and at the party there was obviously Japanese, but also a variety of languages spoken such as English, Chinese, and German.  Of course, even if you can't speak the other languages, everyone has taken an interest and is willing to try hard to understand conversation, and if all else fails, residents have even said "if you simply make gestures, it'll somehow get through."
 When talking with some of the residents, even I encountered a lot of situations where my English did not get across, but the people I talked to tried hard to follow and we were able to have conversation.  However, I think experiences such as this are the motivation for learning languages as people have thoughts such as "I want to know more about the people I'm talking to!", "I want to convey more of my thoughts in words!", or "I want to improve my English!"
 I also felt that for those who want to start something new or take on a new challenge but can't seem to take that first step to get started, a share house that's within reach may be the key to that first step.
 When looking back on your life in a share house many years from now, you may find the time you spent with people you met there to be something you wouldn't trade for anything in the world. 
/Author: カガワ