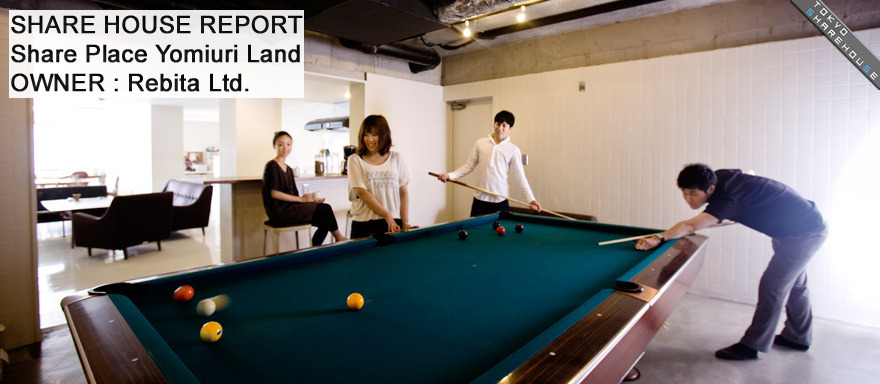 A mature atmosphere loaded with fun.
When moving to a new place, people look for excitement and amazing experiences even on a casual carefree day, and because the share house life style is shared with others rather than being alone, these expectations are that much higher.
I think there are a lot of people that wish they had a place to play or enjoy their hobbies, even if its not a celebrity lifestyle like you see in the movies.
And so, this time we'll be showing you "Share Place Yomiuri Land," located in a residential area full of greenery near Yomiuri Land.  Taking the Odakyu Odawara Line from Yomiuri Land Station, Shibuya is only 21 minutes away and Shinjuku only 24, putting termal stations within a 30 minute reach of home.  The house itself includes a fitness room, a pool table, and even a theater room, offering a variety of ways to spend your free time.  
Even adults like to cut loose, so there's no shame in enjoying yourself once in a while, as long as you stick to the rules.
Now let's hurry and take a look at the house!!
「Share Place Yomiuri Land」House Detail Page
 
 

The Outside View

This building was originally a dormitory for company workers.  Sitting proudly atop a hill with plenty of greenery, the uniform design from the outside is quite impressive.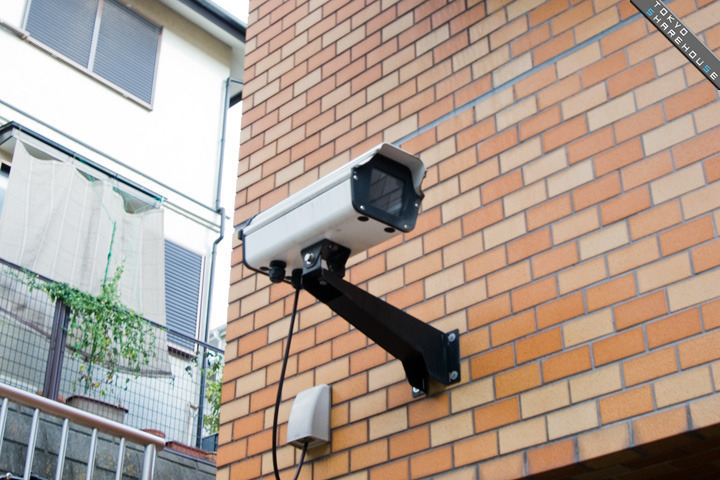 A 24-hour surveillance camera has been place at the entrance to monitor who comes in and out, so you know the security here is top notch.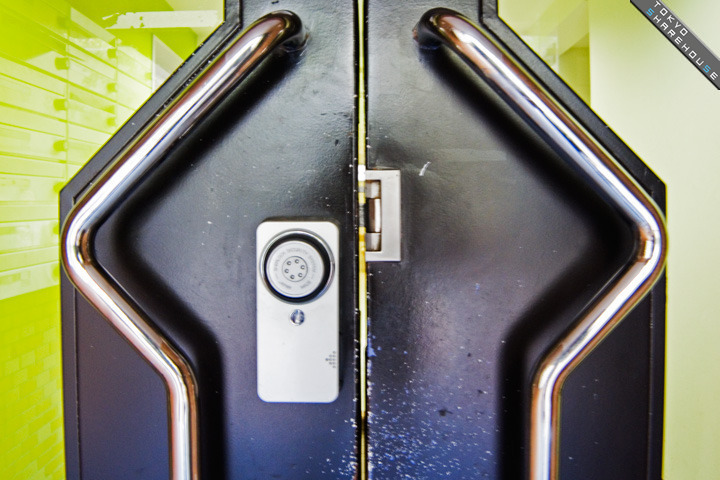 The entrance uses a special card key that's also used for the rooms.  The design cannot be easily copied, adding an extra layer of safety to the house.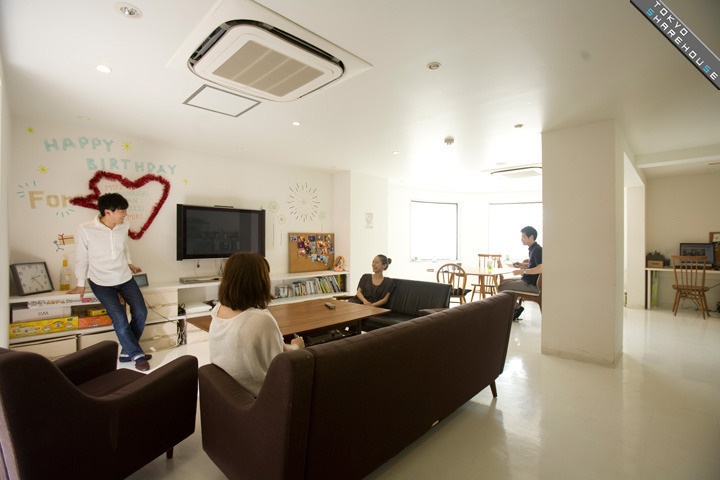 The Main Lounge
The lounge, with white as its base color, is bright with a sense of comfort that naturally draws the residents together.
After returning home, I'm sure this is a place residents instinctively check to see if anyone's around.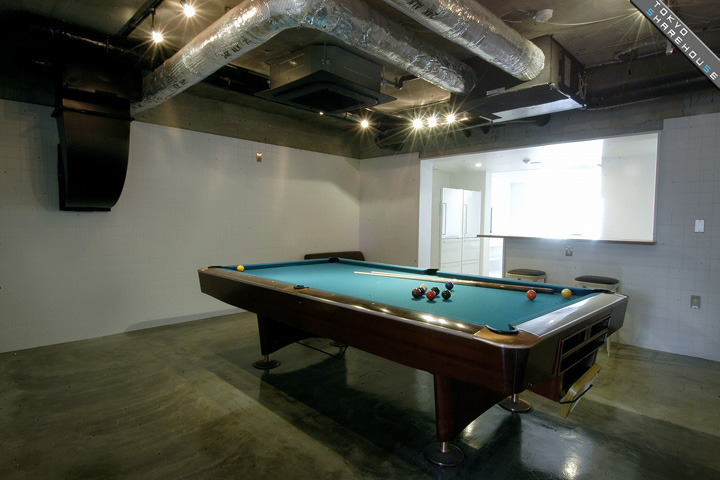 In addition, past the the lounge is a pool bar complete with billiard table.  Enjoying a few drinks with a game a pool, you can enjoy a more mature atmosphere here.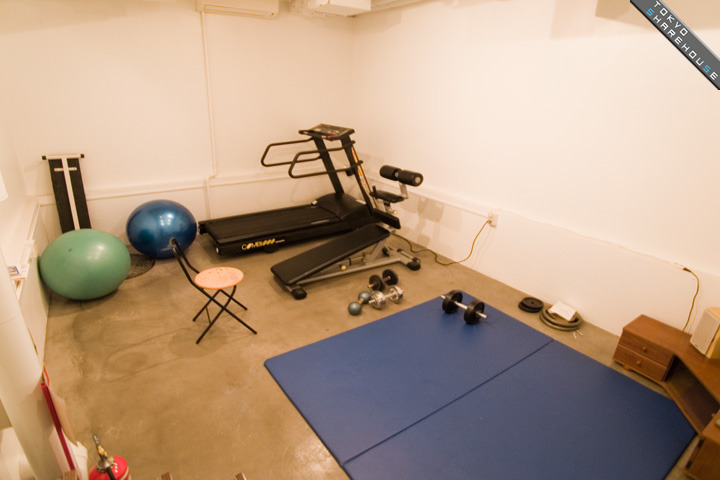 For those who feel they're not in shape, there's a fitness room where you can work out as often as you'd like. Working out with friends, you won't give up on your routine so easily.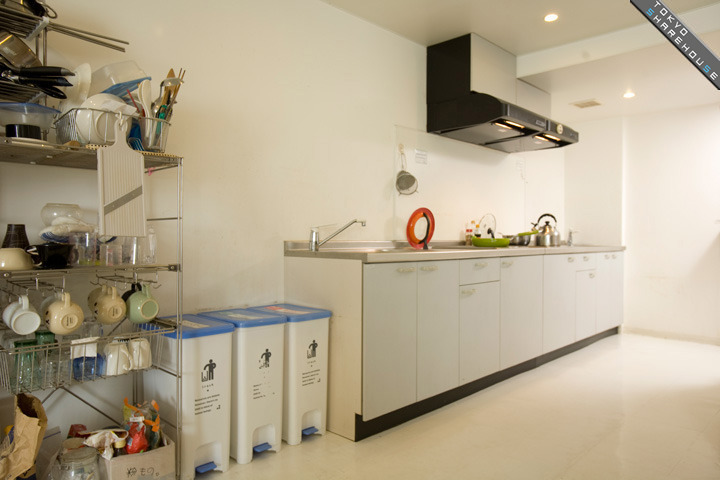 The Kitchen
The kitchen, connected directly to the lounge, is equipped with a large assortment of kitchenware.  Also, the kitchen uses IH stove tops for safer cooking.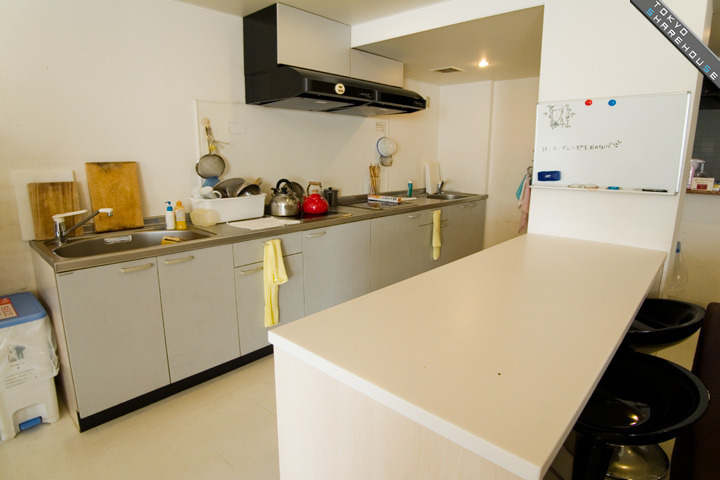 The counter table across from the sink and stove is perfect for a few people to enjoy sharing delicious home cooked food.
Also, each unit of the South building has its own compact kitchen, so there's no need to go all the way to the lounge for meals.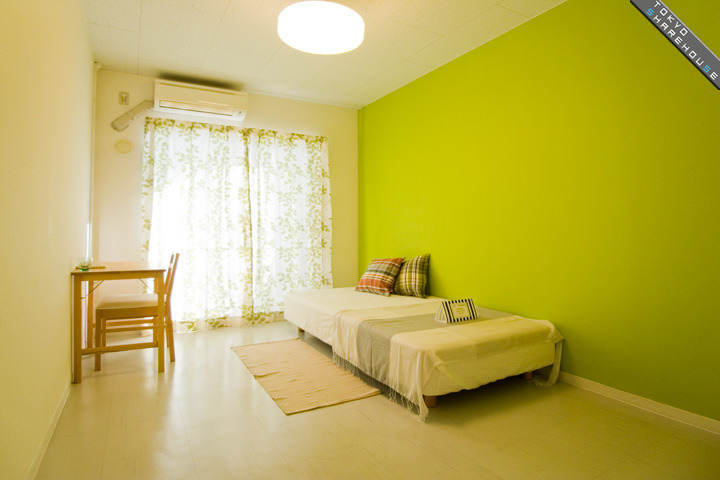 The Private Rooms
The vibrant colors of the accent walls in the private rooms is one of their distinguishing characteristics. (room S203)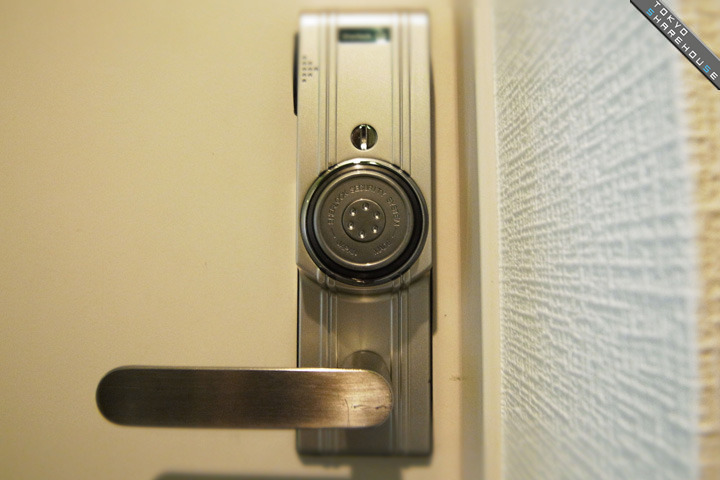 Slide in the card key, give the round piece above the handle a turn, and you can open the door.  The cards are apparently very hard to copy.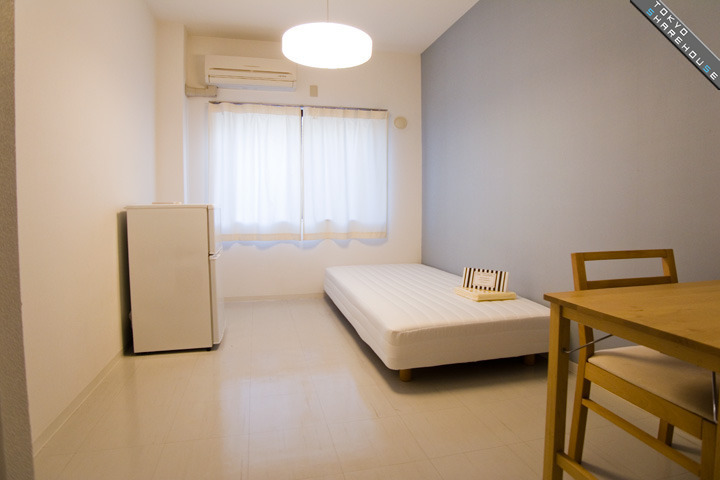 The colors in this room give it a very calm atmosphere.  For those who don't like colors that are too flashy, I recommend this one. (room 105)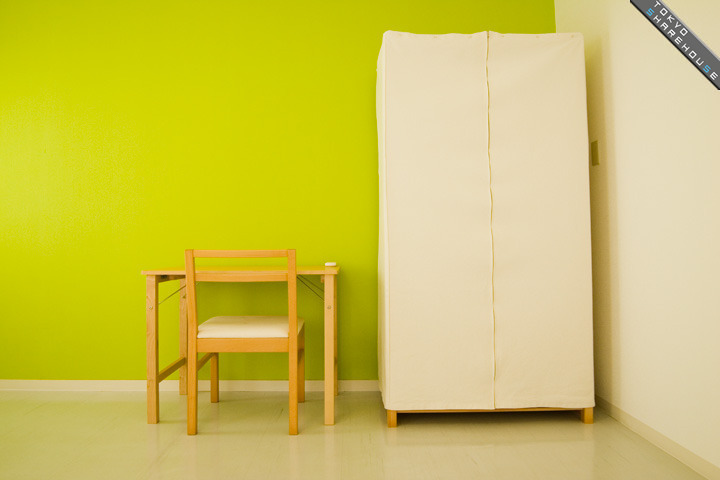 For rooms that don't come equipped with a storage space, as you can see, a simple alternative has been provided.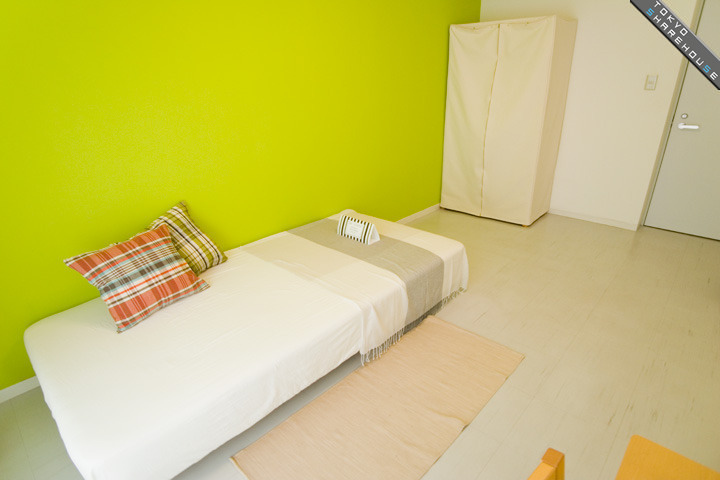 This is a model room, so feel free to refer to this one for the layout of the rooms here. (room S203)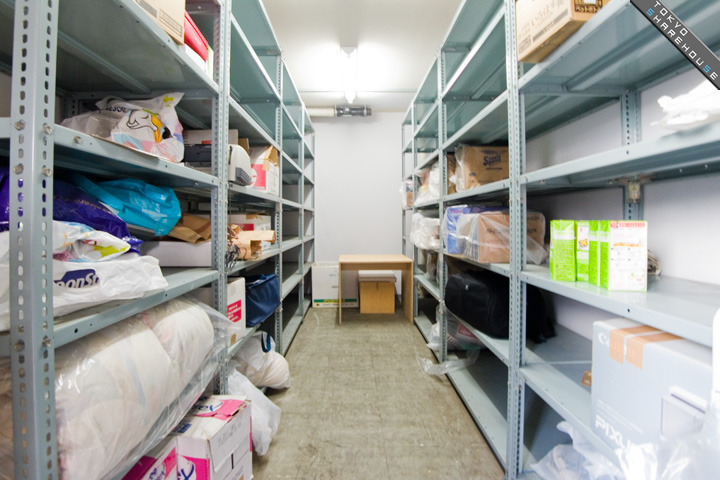 This is the storage space used by one of the units (3 people).  I think anyone with lots of luggage will be relieved moving in here.  It's probably a good place to store emergency rations in case of emergency as well.
Share Place Yomiuri Land is managed by Rebita.  Managing 12 large-scale share houses in the metropolitan area and suburbs, Rebita has a great track record.  Often appearing in magazines as well as on Television, there are probably quite a few people who have seen their share houses before.  So that residents can naturally foster communication with one another, Rebita strives to provide stylish and spacious lounges as well as rooms with good security to ensure privacy.
I think this house is perfect for those who like to hang out with friends but still want to prioritize their alone time.  Joining in with the community depends on one's mood, so I think you'll be able to get along well here without getting worked up from the start.
However, having gone through the trouble of moving into a share house, you'll probably want to get your fill of the community and hang out a lot with other residents.
In a place where people from various walks of life come together, before you realize, all the small encounters you experience will become an invaluable part of your life.
Care to create such a picture perfect story here at Share Place?
/Author: Kagawa, Translation: Paul